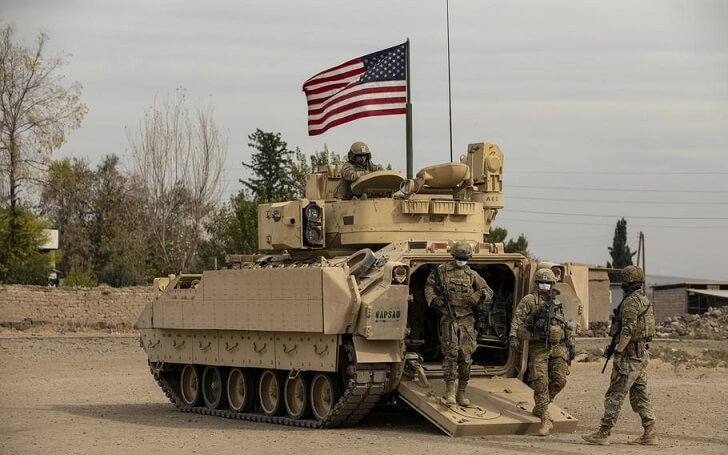 Here We Go – The IDF Is Given The "Green Light" As U.S. Forces In The Middle East Come Under Fire
The Israeli military could be on the brink of launching a ground invasion of the Gaza Strip nearly two weeks after Hamas terrorists invaded southern Israel.
By: Michael Snyder | T.H.E.
Right now, we are all witnessing some of the most pivotal moments in all of human history. For a long time, I warned my readers that a great war would be coming to the Middle East. In fact, I specifically warned that it would be one of "the 3 wars of the apocalypse". I didn't expect the Great Middle East War to arrive quite so quickly, but here we are. Once thousands of missiles start flying back and forth, none of our lives will ever be the same again. We are literally watching an apocalyptic scenario play out right in front of our eyes, and it is all going to begin once Israeli forces move into Gaza.
That could happen very soon, because Israeli Defence Minister Yoav Gallant just told Israeli troops that they will be seeing Gaza "from the inside" very shortly…
An Israeli minister has told troops massing at the border that they will soon see Gaza 'from the inside' sparking fears a ground invasion is imminent.
Yoav Gallant, who is the country's defence minister, told Israeli Defence Forces (IDF) soldiers to 'get organised, be ready' to move into the Palestinian territory as he vowed there would be 'no forgiveness' for Hamas, only it's 'total annihilation'.
And another cabinet minister has told ABC News that the IDF has been given the "green light" for an invasion…
It came the same day that the country's Economy Minister, Nir Barakat, told ABC News the military had the 'green light' to invade.
The cabinet minister added that the miles of tunnels built by Hamas under the territory would become the 'world's biggest cemetery'.
'We shall do all efforts to bring our hostages, to bring our hostages [back] alive…' he said, but the 'first and last priority' is destroying Hamas.
So here we go.
This is it.
On Thursday, the IDF continued their version of "shock and awe" in preparation for the coming ground operation…
Israel continued its airstrikes on the Gaza Strip early Thursday, as it prepares troops and lays the groundwork for a possible invasion of the enclave.
For nearly two weeks, Israel has been readying for a possible invasion of Gaza by carrying out thousands of airstrikes on the enclave, targeting Hamas's leaders, its special forces and strategic assets, including intelligence posts and an underground tunnel network, as it seeks to weaken the group before sending in the thousands of Israeli soldiers massed at the border.
Once Israeli troops start moving in, the entire region is likely to erupt.
And already we are starting to see some very disturbing signs.
On Thursday, the USS Carney shot down three missiles that Iranian-backed Houthi terrorists in Yemen were apparently trying to fire at Israel…
A US Navy warship operating in the Middle East intercepted multiple projectiles near the coast of Yemen on Thursday, two US officials told CNN.
One of the officials said the missiles were fired by Iranian-backed Houthi militants, who are engaged in an ongoing conflict in Yemen. Approximately 2-3 missiles were intercepted, according to the second official.
Later Thursday Pentagon press secretary Brig. Gen. Pat Ryder confirmed that the USS Carney shot down three land attack missiles as well as several drones that were launched by Iran-backed Houthi forces in Yemen.
The Houthis weren't supposed to get involved in this conflict.
But it appears that Iran has given them permission to do so.
Meanwhile, a base where U.S. troops are located in southern Syria was attacked by multiple drones…
A military base in southern Syria where U.S. troops have maintained a presence to train forces as part of a broad campaign against the Islamic State group was attacked by drones on Thursday, two U.S. officials told The Associated Press.
One drone was shot down, but another caused in minor injuries, said one of the officials, who spoke on condition of anonymity to discuss the matter before an official announcement about the incident.
And a base where U.S. troops are located in western Iraq also came under attack…
Drones and rockets targeted on Thursday evening the Ain al-Asad air base, which hosts US and other international forces in western Iraq, and multiple blasts were heard inside the base, two security sources said.
The Iraqi military said it closed the area around the base and started a search operation. It was not clear yet whether the attacks caused casualties or damages, said the sources.
Putin Warns That When Russia Nukes America "There Is No Chance of Survival" & "There Will Be No Single Enemy Left"
In case you haven't figured it out by now, America is going to be involved in this war.
And that is going to cause our country to become even more polarized.
There are millions of people inside the United States right now that love Hamas.
And there are millions of people inside the United States right now that love Hezbollah.
Once this war really gets going, a lot of those people are going to go completely nuts.
We are about to reap the consequences of decades of very foolish immigration policies.
Sadly, there is no way out now.
The clock is ticking, and the Middle East will soon erupt in flames.
At this point, the U.S. and British embassies in Beirut are both telling their citizens to get out of Lebanon while they still can…
The US and British embassies in Beirut advise their citizens to leave Lebanon while flights "remain available" as border tensions between Israel and Hezbollah intensify.
Both countries had already warned citizens against travel to Lebanon.
"We recommend that US citizens in Lebanon make appropriate arrangements to leave the country; commercial options currently remain available," a US embassy statement says.
We knew that this was coming.
Now it is here.
But even at this late stage, most of the world still has no idea what is coming next…
*  *  *
Must Have: I highly recommend buying Michael's new book entitled "End Times"; its insightful content and engaging narrative make it a must-read for anyone seeking knowledge and inspiration.
*  *  *
NEXT UP!
The U.S. Prepares To Use Military Force Against Hezbollah If It Joins The War Against Israel
We are witnessing an old-fashioned standoff in the Middle East right now.
The IDF was supposed to have sent thousands of troops storming into Gaza by now, but threats from Hezbollah and Iran have caused Israeli officials to pause. Do the Israelis really want to fight an extremely bloody two front war? Iran has actually brought up the possibility of "pre-emptive action", but that would inevitably spark a military response from the United States.
Do the Iranians really want to fight the U.S. military? There are some that are hoping that this standoff will ultimately allow cooler heads to prevail, but I see it as the calm before the storm.
*  *  *
READ MORE: 200,000 Year Old Ancient Anunnaki City Discovered In South Africa
Crazy or Not? KEANU REEVES: "The Earth Is Actually A Prison Planet From Which We Can NEVER Escape"
Liked it? Take a second to support Collective Spark.
We'd love to hear from you! If you have a comment about this article or if you have a tip for a future Collective Spark Story please let us know below in the comment section.