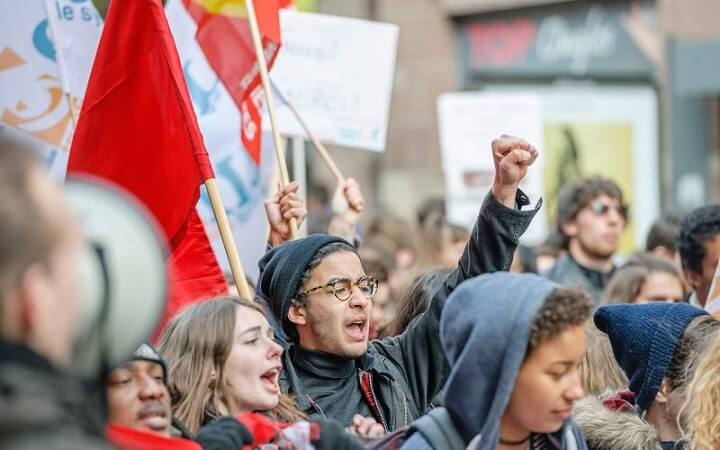 French Citizens Protest New Mandatory Vaccine Measures
People aren't too happy about this...
By Arjun Walia | The Pulse
On Monday, French President Emmanuel Macron announced that all health care workers must be vaccinated by Sept 15th. He also revealed that starting early August, French citizens who want to use non-essential services like restaurants, bars, gyms, theatres, events, or trains in France, will require proof of two vaccination doses or a negative COVID-19 test from the last 48 hours via a new COVID health pass.
Since, thousands of citizens in France have taken to the streets chanting "Liberte" in support of health care workers and in resistance to the new COVID health pass. In Paris an estimated 2,250 people protested, while in Toulouse, Bordeaux, Montpellier, Nantes and elsewhere, French authorities estimate the total number of protesters was 19,000.
1.7 million vaccine appointments were made by the general citizenry following Macron's announcement.
https://twitter.com/PoliticsForAlI/status/1415333366036062208?ref_src=twsrc%5Etfw%7Ctwcamp%5Etweetembed%7Ctwterm%5E1415333366036062208%7Ctwgr%5E%7Ctwcon%5Es1_&ref_url=https%3A%2F%2Fthepulse.one%2F2021%2F07%2F15%2Ffrench-citizens-protest-new-mandatory-vaccine-measures%2F
In the UK, a recent vote amongst MP's ended 319 – 246 in favour of mandatory vaccines for health care workers. As a result, thousands of workers in both France and the UK will either be forced to do something they don't want to do and do not feel is safe, or lose their job.
Health care workers, scientists, and doctors around the world have been hesitant throughout this pandemic about these COVID vaccines.
A survey conducted in December of 2020 at Chicago's Loretto Hospital and revealed 40% of healthcare workers will not take the COVID-19 vaccine once it's available to them. Similarly, 50% of healthcare workers and hospital staff in Riverside County, California also refused to take the COVID-19 vaccine.
There are a number of legitimate reasons why many scientists, doctors & people of all backgrounds are quite hesitant to take the COVID vaccine. Despite this fact, not many people are aware of these reasons because censorship continues to increase, especially around information and opinions that challenge the "official COVID narrative" from government and health authorities.
Most who are hesitant fully support people's decision to get vaccinated, but society is being pushed to a questionable point when it requires people to inject themselves with these new vaccines without choice nor consent.
Greece announced Monday that health-care workers will be suspended if they refuse to get vaccinated. Italy made the coronavirus vaccination obligatory for health-care workers and pharmacists, and those who opt out risk suspension from their jobs or a salary cut.
In Denmark, restaurants and public events require a digital pass, showing patrons have been fully vaccinated or have a recent negative test. Some German states require the same for restaurants, though suggestions of making vaccines obligatory have prompted widespread unease.
For those who do not want to take the vaccine, the issue is they will have to continually test, test, and test again to be allowed the privileges that the vaccinated will experience. Still not effectively address in mainstream dialogue in the fact that PCR tests are not designed to determine whether or not someone is sick or infectious.
When testing an asymptomatic person, the PCR test cannot indicate if any of the viral particle present is from an active infection. This has been expressed throughout this pandemic from the very start. In a letter to the editor published in the Journal of Infection, researchers explain that more than half of all "positive" PCR tests are likely to have been people who are not even infectious.
What would make more sense scientifically would be to simply determine infection status via symptoms. In Sweden, for example, The Swedish Public Health agency has a notice on their website explaining how and why polymerase chain reaction (PCR) tests are not useful in determining if someone is infected with COVID or if someone can transmit it to others.
As a result the Swedish government recommends assessing COVID infections, and freedom from infections, based solely on whether someone is sick or not. This may only apply in hospitals, and the country still may have testing requirements, but things remain unclear.
Opinion | Sick people should stay home until they are better. Let healthy people who are not sick and have no symptoms have access to the privileges they enjoyed prior to the pandemic.
This article (French Citizens Protest New Mandatory Vaccine Measures) was originally published on The Pulse and is published under a Creative Commons license.