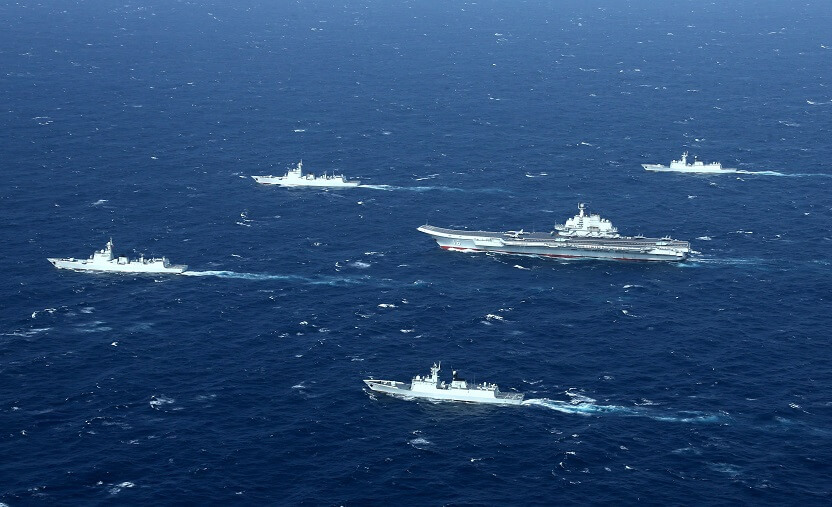 China's Shipbuilding Capacity More Than 200 Times Greater Than US: Navy Intelligence Slide
A leaked U.S. ONI slide is garnering concern over the Chinese regime's continued capability to produce naval vessels at an alarmingly faster rate than the US.
By: J.M. Phelps | The Epoch Times
 A leaked U.S. Office of Naval Intelligence (ONI) slide is garnering concern about the Chinese regime's continued capability to produce naval vessels at an alarmingly faster rate than the United States.
The leaked graphic depicts shipyards in China as being able to build new naval vessels at a rate that's 232 times greater than that of the United States. The ONI confirmed its authenticity to The Drive, which first published the slide.
This outsized capacity to support China's People's Liberation Army (PLA) Navy has caused some analysts to raise the alarm that the United States won't be able to close the gap for many years to come.
Retired Capt. James Fanell, a former director of intelligence and information operations for the U.S. Pacific Fleet, doesn't share the same level of pessimism, although he does acknowledge the challenges involved in rebuilding the United States' shipbuilding capacity.
He says closing the gap with the Chinese regime will require "a dramatic shift in the policy of unaccountable engagement that now characterizes the Biden administration."
"The challenges are also greater than just political will," Mr. Fanell told The Epoch Times. "There is an issue of America's shipbuilding industry that has gone into disrepair since WWII."
Despite a few political hurdles, "America is a nation of optimism and the can-do attitude that will be essential to any effort to close that gap," he said.
According to the ONI, the Chinese regime's navy consisted of 355 vessels in 2020, while the United States had 296 vessels. By 2035, China is expected to reach an estimated 475 ships, while the United States would reach 305 to 317.
"While U.S. Navy leadership is concerned about the growth and capabilities of the PLA Navy, what has not happened is that any single U.S. Navy Admiral resigns their commission over the lack of response to this threat to America's national security," Mr. Fanell said.
"The recent ONI slide is a stark reminder of the cataclysmic decline in the U.S. shipbuilding industry, one that the United States dominated just 80 years ago during World War II. America became a great power because it was a seafaring nation, and we will suffer defeat the more we deny this history.
Is China 'Massing Forces at Coastal Military Bases' in Preparation for an Invasion of Taiwan?
"In 1949, more than a dozen U.S. Navy admirals were willing to put their careers on the line to speak out about what they felt was a dangerous approach to defeating the USSR with just strategic bomber aircraft.
"Their willingness to put national security before their careers paid off as the U.S. Navy laid the foundations for creating a nuclear aircraft carrier fleet that ruled the waves of the globe for the next 60 years and ensured the safety and prosperity of America, our allies, and even our enemies."
How to Close the Gap
Mr. Fanell says Congress must pass and fund similar legislation to the Two-Ocean Navy Act that was passed in 1940 and allowed the country to increase its naval presence and capabilities in the Atlantic and Pacific oceans.
"The similarities between the strategic environment today and 1940 are too great to ignore," he said.
For example, Russia has invaded Ukraine—threatening Europe—while the Chinese regime continues to conduct large-scale operations with warships and aircraft around Taiwan and into the Philippine Sea, Mr. Fanell said.
"America's ingenuity should be unleashed to build up our fleet of warships," he said.
"For instance, we should be able to build a fleet of unmanned warships, along with equipping our existing mothball fleet with supersonic-hypersonic anti-ship cruise missiles that could turn these retired combatants into arsenal ships that could be used to sink the People's Liberation Army Navy invasion fleet."
"It's disturbing how ill-informed and naive the average American is on China," U.S. Navy Rear Adm. Michael Studeman said (pdf) during a presentation at a naval conference in February.
Americans are "ignorant of the threat from the [People's Republic of China] and their Navy," Mr. Fanell said.
But he doesn't blame the American people.
"It is primarily the fault of our national security community who have failed for 20 years to inform the people of America of the threat from communist China," Mr. Fanell said. "That education needs to go into overdrive.
"The threat from the PLA Navy isn't just confined to the Western Pacific, but it is now approaching Hawaii, and if left unchecked, will be off the U.S. West Coast in less than a decade. This isn't a theoretical threat; it is a very real threat—a nuclear threat.
"America is in a dire situation, but the will and determination to save our nation from Chinese Communism can reverse this situation."
The Department of the Navy and Office of Naval Intelligence didn't respond by press time to requests for comment.
*  *  *
NEXT UP!
Journalist Presents Mexican Congress With Alleged 'Non-Human Alien Corpses' At UFO Hearing: 'We Are Not Alone'
What were alleged to be 1,000-year-old "non-human alien corpses" were presented in glass display cases before the Mexican Congress on Tuesday during its first hearing on UFOs.
"They are non-human beings that are not part of our terrestrial evolution," Mexican journalist and UFOlogist Jaime Maussan testified under oath.
As two small, mummified specimens — seen with three fingers on each hand — were unveiled, Maussan said researchers at the Autonomous National University of Mexico have conducted Carbon 14 analysis that determined the corpses are around 1,000 years old.
*  *  *
READ MORE: Journalist Reveals Bob Lazar's Astonishing Claim: Extraterrestrials See Humans as 'Containers of Souls'
Awareness: Is China Pre-Positioning Vast Numbers of Soldiers, Spies And Saboteurs In U.S. Communities For The Coming War?
Liked it? Take a second to support Collective Spark.
We'd love to hear from you! If you have a comment about this article or if you have a tip for a future Collective Spark Story please let us know below in the comment section.