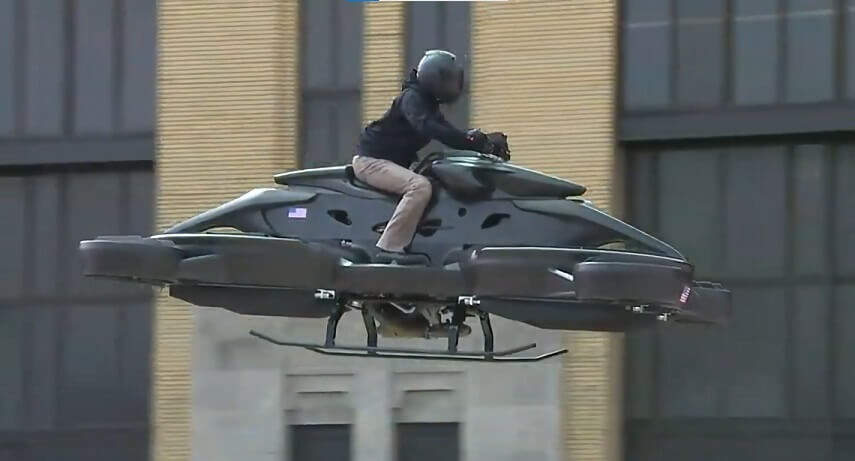 Watch Sci-fi Become Reality As Hoverbike Takes Off In Michigan. 'Out of Star Wars'
Whirring as it powered up, a hoverbike lifted directly into the air in Michigan, video shows.
By Mayukh Saha | Guest Writer  
After bringing out the fastest bikes and cars on the ground, it is time for humanity to explore the air that exists between the flight range of an airplane, and a normal car on the road. With the concept of flying cars already being demonstrated, it is time to give hoverbikes their time in the spotlight. This is the tale of a hoverbike- made in Japan- that could be launched in the US in 2023. This bike made its debut at the Detroit Auto Show on September 15th leading to several excited murmurs. The hoverbike- called the XTURISMO- comes from the Japanese start up called AERWINS Technologies. This latest innovation in vehicles can hover for around 40 minutes while reaching a maximum speed of 62 mph. [1]
The hoverbike certainly brought in mentions of several science fiction movies like Star Wars, Blade Runner, and even Guardians of the Galaxy. Thad Szott, the co-chair of the auto show was heard stating, "I feel like I'm literally 15 years old and I just got out 'Star Wars' and jumped on their bike. I mean, it's awesome! Of course, you have a little apprehension, but I was just so amped. I literally had goosebumps and feel like a little kid."
Hoverbike Debuts At Detroit Auto Show – Price Set At $777,000
This hoverbike is already out there in Japan for people to buy. But the exorbitant price may put some people off. This vehicle's price tag currently sits at a gargantuan $777,000. The company, on the other hand, has brought out its plans of slashing the price to a nominal $50,000 by 2025- when features and technology could improve even further.
And yet, such an interesting development did not have all good reactions online. One user commented, "People can't even drive safely on the streets… plane wrecks don't usually end well." Another user, on the other hand, stated, "It's awesome. I'd love to ride one." And finally, one user wrote what we are all thinking about- "We are gradually entering the era of flying vehicles." Needless to say, the Jetson cartoon might not be an impossibility anymore. [2]
The official statement from the website reads, "Bringing Science Fiction to Reality/Life. Imagine a world where humans have free reign over the skies. Surely, life would be more free! Expand your ideas about transport, and experience the world like never before. Pioneer the next generation of transport. XTURISMO was created with this in mind". The advertisement for the hoverbike is on point- for we have grown up reading, watching, and dreaming about flying vehicles. [3]
So tell us in the comments – would you ride one in the near future?
Sources
"'It felt like Star Wars': hoverbike makes U.S. debut." Reuters. Eric Cox
"Watch sci-fi become reality as hoverbike takes off in Michigan. 'Out of Star Wars'" The Olympian. Aspen Pflughoeft. September 16, 2022.
About the Author
Mayukh is a Content Marketer and Social Media Manager with over 5 years of experience in the industry. Mayukh believes in the power of content; how it can positively impact lives, scale businesses and touch people. In his spare time Mayukh likes to read about latest tech trends and loves to travel in the nature.
You can reach him at mayukh@thepremierdaily.com