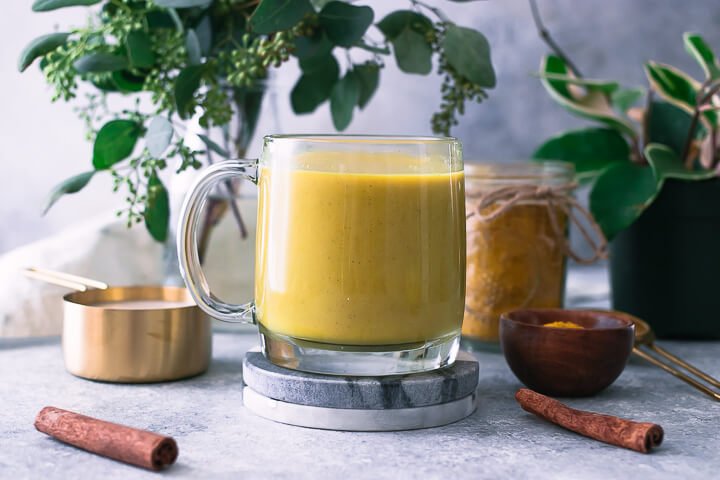 Turmeric Has Incredible Health Benefits, Add This Golden Spice To Your Latte
Health Benefits of Turmeric!
By Chris Ford | The Epoch Times
If you think that all herbal teas taste like grass clippings, think again. Here is one that does taste delicious, and it is so easy to make, you will be hooked.
Turmeric root has a very long history of use on our planet. Its use in traditional medicine is well known, such as its treatment for colds, flu, depression, headaches, sore throats—the list goes on.
Referred to as either a spice or a medicinal herb, turmeric is precisely what gives many curries that bright yellow colour.
Turmeric is steadily gaining popularity in the West. And not without good reason. It has great health-building properties, and tastes terrific as well when combined with other herbs. Even the kids will enjoy it in a smoothie! Black pepper also makes the curcumin in turmeric more bioavailable, so don't forget to add a pinch. Plus, they marry so well together.
In a brief testimony of turmeric's amazingness, Saraswati Sukumar, Ph.D., co-director of the Breast Cancer Program at Johns Hopkins, says: "The health benefits are many, many. For example, for those who suffer from rheumatoid arthritis, who have painful swelling in the knees, turmeric is a great way to suppress the inflammation."
"We have close to 300 publications (that cite turmeric) for its anti-cancer effects. Many diseases, such as colon cancer and other types of cancer, are being traced to inflammation."
Sukumar adds that most cancer rates are lower in India than in the United States.
"There must be a correlation," she says. "Nevertheless, the amount of turmeric we add to food is very low, a teaspoon for the whole family."
Turmeric has very strong anti-inflammatory properties, matching some of the drugs on the market, according to the National Institutes of Health—minus the side effects.
Curcumin, which we touched on above, is a chemical compound in turmeric, and has been shown to kill cancer cells and stop more from growing. The research into this herb as a cancer treatment is promising, but more trials on humans are needed.
Alright, you may be ready for a little turmeric now.
So, here is an easy recipe for the highly coveted "Golden Latte," which is also referred to as a "Turmeric Latte," or simply "Golden Milk." If you are not keen on the taste of coconut milk, use dairy, soy, or even almond.
Golden Latte (2 cups)
1 can organic coconut milk (or coconut cream if you want it richer) or dairy
1 cup water
Half a teaspoon of powdered turmeric, or freshly grated turmeric
Pinch of black pepper
A quarter teaspoon of powdered cinnamon
A quarter teaspoon of powdered ginger
1 tablespoon of coconut oil
And if you want to make your turmeric beverage "bulletproof," which is optional of course, add a little grass-fed non-salted butter.
Method
Place all ingredients in a small saucepan, bring to the boil, and simmer for 5 minutes. Pour into cups, add honey to taste, and enjoy.
Smoothie for Kids
Add turmeric to a smoothie. For a delicious cold drink that is brimming with goodness, try adding half a teaspoon of turmeric to your favourite smoothie, or combine it with coconut, ginger, banana and mango for one to impress the kids. It will help build their immunity as well.
Another good fruit and turmeric combination for kids is mango, pineapple, banana, orange, half a teaspoon of turmeric—combine with their favourite milk in the blender for a health kick they are sure to love.
If you want to buy Turmeric, it's widely available here.
About the Author
Chris Ford is a former reporter with The Epoch Times.