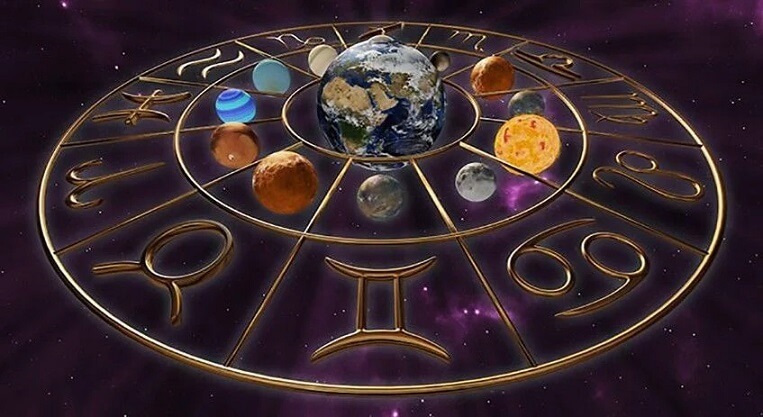 The Year of The Water Rabbit: Astrology Forecast January 15th – 22nd, 2023
What to expect this week?
By Lorna Bevan | Guest Writer
New Year 2023 finally starts here at the seismic Super New Moon at 1 Aquarius on January 21st. It is a foretaste of the Aquarian Agenda Years 2023 – 2043 which begin when Pluto enters Aquarius on March 23rd, re-activating the degree of this Super Moon.
In Chinese Astrology, it marks the Year of the Water Rabbit. The Yin Water element represents sensitivity, intuition and the way of inner peace after the dynamic and extremely harsh Year of the Yang Tiger in 2022.
Super New Moons are New Moons on steroids and have the same storm and seismic potential as their more visible Full Moon counterparts that are always reported by the media. The January 21 Stealth Super Moon will anchor a January 18-24 shock window when extreme tides, strong storms and seismic activity are likely. It is in a wide conjunction with Pluto square the karmic Nodes of Fate across Taurus/Scorpio- choices made now will have long term consequences.
Uranus turns direct at 14 degrees Taurus on January 22, shaking up global markets and personal finances – cryptocurrencies are going to be centre stage as old debts are called in.
Attune to the incoming Aquarian frequency by:
being ready to renew the architecture of your life in coming weeks and months
recognising the value of your friendships and social networks
looking for win/win scenarios via collaborative ventures
giving your emotional dramas and soap operas a break
Chandra Symbol New Moon AQUARIUS 2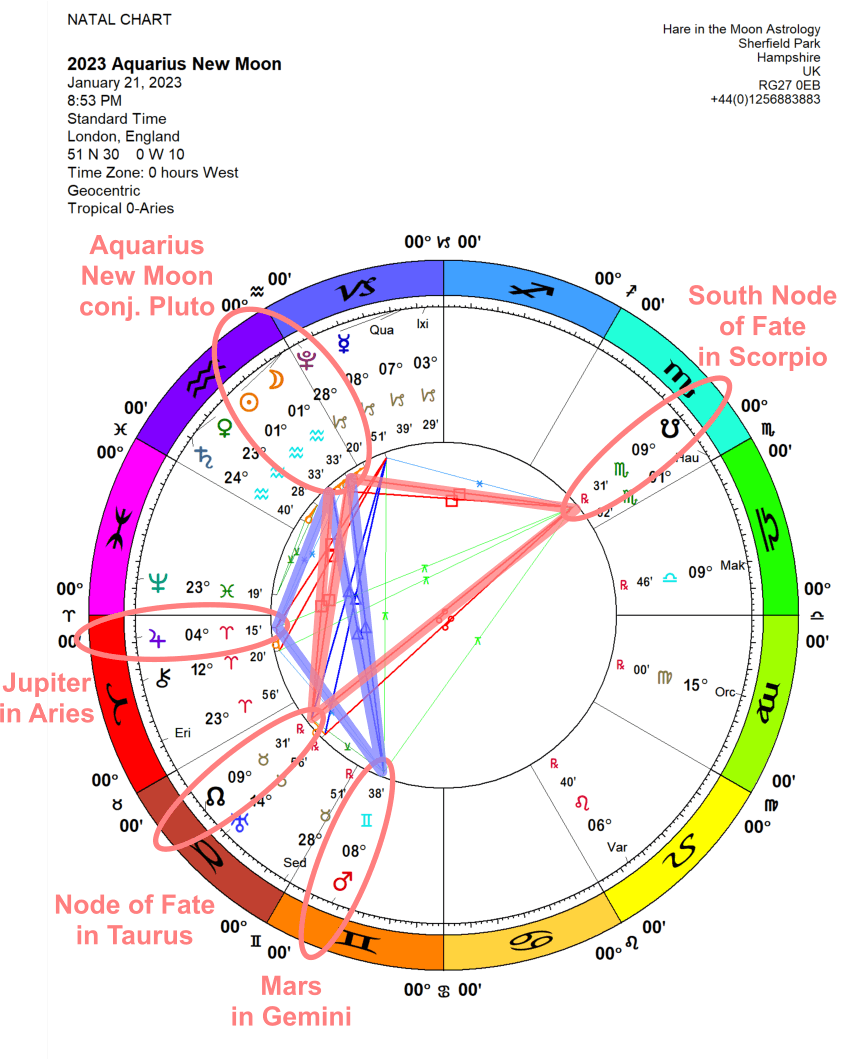 A Woman Strolling In a Garden. She Is Unaware That She Is Being Watched By Elves
"We adopt a split-screen mind when the outward frame of things seems so insistent that we must be reasonable and logical and make complete sense in a quantitative, functional way. But what happens is that the other side of our awareness, the outlawed side, gets very strong in the subconscious and stays alive. We can almost play off of it in emphasising our sceptical or worldly approach to things. But there is a joke to it. For you are aware of what you are not aware of — you are tuned into the very things you deny. This kind of edge hones the mind and the soul. It teaches invaluable lessons, not the least of which is to make way for the unknown while hugging the known close to you, knowing all the whole how profoundly the unknown beckons." – Inside Degrees Elias Lonsdale
Aries Weekly Forecast: January 15-22, 2023
The tide and the tempo are changing quickly this week with a seismic Super Moon in Aquarius, along with Mercury and unpredictable Uranus changing direction. As the Messenger moves forward, there could be news about your career. Decisions that have been on the back burner are now firming up, so make sure you get your act together. With Venus plus the Super New Moon in your 11th House, teams, groups and networks are going to play a much more important role in your life this year. For the last two years, Saturn here has put a block on social events. As he moves on from early March, transformer Pluto moves in and your alliances and allegiances start to update themselves.
A changing of the guard.
Taurus Weekly Forecast: January 15-22, 2023
This year, your career is going to move to a whole new level of influence and responsibility as transformer Pluto activates the pinnacle of your chart in Aquarius for the first time in your life. The seeds of this new direction are going being planted this week at the Super New Moon in Aquarius on Saturday 21st. The next day, Awakener Uranus-ruler of Aquarius-turns forward in Taurus after months of go-slow, sparking sudden insights and light bulb moments about radical possibilities you may never have thought of before. Now that both Mars and Mercury are also moving ahead, your income stream will start to flow more smoothly.
Be alert for offers and opportunities.
Gemini Weekly Forecast: January 15-22, 2023
At long last, this week will start to bring you that New Year feeling. First, your own planet Mercury turns forward again on January 18th, clearing your head to make travel plans after weeks of delays then a stunning Super New Moon in fellow Air sign Aquarius on Saturday 21st makes you feel as if the sky's the limit. Sky God Uranus turns direct hours after the New Moon, downloading insights that have been incubating for months in your unconscious and are now ready to be turned into reality. Now is the time to pull together whatever you've been working on behind the scenes-a teaching program, a podcast or blog-and launch it into the world.
Clear the decks as life turns busy again right through to May.
Cancer Weekly Forecast: January 15-22, 2023
Take a long, deep exhale. It's a week when change is finally in the air after what feels like months of inertia on all fronts. On January 18th, the Sun meets Pluto and Mercury turns direct, bringing a relationship saga of some sort to a conclusion. You might remove your rose-tinted glasses and see someone's true colours. After the Stunning Super New Moon in Aquarius on the 21st in your 8th House of intimacy and Uranus turning forward on the 22nd, you start to delve more deeply into what exactly partnership means to you, into issues over shared finances and resources. What boundaries need to be established?
It's a time when a session with a therapist or a trusted friend could be very helpful.
Leo Weekly Forecast: January 15-22, 2023
This week's progressive astrology will feel like your personal New Year with bells on! Both Mars and Mercury are moving forward again, restoring your motivation and momentum, then on the 21st a stunning Super New Moon in Aquarius lights a fire under your closest relationships. Is it time to take one in particular to the next level of commitment? There's more… a few hours later on the 22nd, Awakener Uranus turns direct at the very peak of your chart, waking your career out of a long slumber. Expect to hear some intriguing news at work and be ready to seize sudden opportunities before they fly past.
Coming out of hibernation.
Virgo Weekly Forecast: January 15-22, 2023
If life has felt like being marooned in the doldrums recently, take heart-everything's about to change. First, your own planet Mercury turns forward again on January 18th then a Super New Moon in Aquarius on January 21st in your 6th House is a wake-up call to do a Chinese New Year's de-clutter of your workspace, wherever that may be. Clearing and cleansing your energy field will bring in new opportunities and free you up to be your most creative self. This message is underlined the next day when Awakener Uranus also turns forward, downloading new ideas and inspirations that have been incubating in your unconscious all this time.
Shaking up your mental circuitry.
Libra Weekly Forecast: January 15-22, 2023
This is an exciting week for just about every sign as Mercury turns forward just before a stunning Super New Moon in fellow Air sign Aquarius. For you as a solar Libran, it's doubly so as Jupiter is bringing new people into your life and adding a big dash of luck if you're searching for a new partner. With the Aquarius buzz, online dating around the 21st and 22nd when Awakener Uranus turns direct could be the key. This is also superb timing to launch a creative project out into the world. Don't wait until it's perfect, just get it out there and tweak it from the feedback.
Update all your communication platforms.
Scorpio Weekly Forecast: January 15-22, 2023
New Year 2023 really only begins at the Super New Moon on January 21st, coinciding with the Chinese New Year of the Water Rabbit, which promises gentler Yin energy than 2022's fierce Yang Tiger aggression. This is a New Moon on steroids, nudging you to make a clean sweep at home, de-cluttering on the physical level and to make plans for a new place to live. This urge will become much more insistent when transformer Pluto enters this part of your chart on March 23rd, bringing quite radical change. Something in your family life is ending. On January 22nd, Uranus turns forward in your opposite sign, disrupting partnerships-either personal or professional. Be ready for surprising news needing a quick response.
Trust your superb gut instincts more than ever.
Sagittarius Weekly Forecast: January 15-22, 2023
This week is when New Year 2023 really begins with a bang, coinciding with the Chinese New Year of the Water Rabbit. On January 18th, Mercury finally turns forward and it really is time to sort out those finances to free yourself up for the opportunities coming your way this year. Clear debt, start saving and work on adding new income streams. The Super New Moon on January 22nd in far sighted Aquarius starts you thinking about your future, how you want life to be different, more innovative and exciting. If you've been dreaming large over recent months, now's the time to risk putting your ideas out there-trademarked of course-to ask for feedback from people you trust and start turning them into reality.
Start thinking of yourself as an entrepreneur, no matter what your current job or role.
Capricorn Weekly Forecast: January 15-22, 2023
You'll feel the energy and the elements shift quite markedly this week, starting the delayed New Year 2023 and coinciding with the Chinese New Year of the Water Rabbit. On January 18th, Mercury turns forward in Capricorn ahead of a stunning Super New Moon in Aquarius on the 21st. It's time to do a clean sweep of your finances, clearing debt and coming up with some practical new income streams. Audit your resources-include time, money, life experience, skills and talents-and find multiple ways to add value to others from what you know. It's not going to be all work and no play as Uranus wakes up your angle of fun, creativity and life's pleasures on January 22nd.
Do more of what you love.
Aquarius Weekly Forecast: January 15-22, 2023
There's a lot to celebrate this week. Not only is it your personal New Year as the Sun returns to Aquarius on the 21st but also the Chinese New Year and the much- delayed true start to 2023. On January 22nd, a stunning Super New Moon lights up the 1st degree of your sign-an unmistakeable planetary message in flashing neon lights of better things to come. There's more! Hours later on the 22nd, your own planet revolutionary Uranus wakes up from a long slumber on a key angle of your chart. Anticipate surprising news at home connected with your close family and tribe. Ring the changes where you live, perhaps set up a workshop to turn all those creative ideas you're incubating into reality.
Happy New Year!
Pisces Weekly Forecast: January 15-22, 2023
Everything changes this week and, as a sensitive sign, you'll feel the elemental shift more strongly than most. First, Mercury moves forward on January 18th ahead of a potent Super New Moon in Aquarius on the 22nd in your deep 12th House. For you, this is a time of deep diving into your unconscious to discover which old dreams have lost their juice and which are crying out to be revived and restored to life. With an inspiring link from the New Moon to Mars at the base of your chart, you have the motivation to create something entirely innovative from your passions and skills when Saturn returns to your sign in early March. Watch January 22nd when Awakener Uranus turns direct in Taurus. Your communication platforms will be buzzing and so will you.
Coming out of hibernation.
* * *
Learn To Read All 78 Tarot Cards In Less Than 2 Hrs!!
About the Author
Variously described as a visioneer, a creative disruptor, a life guide and a change maker, my passion is to blend the tools of Visionary Astrology and Transformational Coaching to help you to connect with your inner world so that you can transform your outer world. Through my practice, Hare In the Moon, I combine the ancient art of astrology with the modern art of personal coaching to offer clients all over the world a unique mix consultations and coaching services. I work with clients around the world by phone and email, tailoring my Astrology Coaching to each unique individual or business I work with.
I'm a qualified Psychological Astrologer, Jungian Psychotherapist and Master NLP Coach, and I'm currently taking a Master's Degree in Analytical Astrology. I've had a varied career as a Modern Languages Teacher, a Management Development Consultant, a Counselling Clinician at Personal Performance Consulting Worldwide, a Personal and Career Coach and Psychotherapist, and former Consultant Astrologer for The Sunday Times Magazine.
You can learn more about my work or contact me at:
*  *  *
READ MORE: Dear Everyone Who Tells Me I Should Reconcile With My Parents
Liked it? Take a second to support Collective Spark.
We'd love to hear from you! If you have a comment about this article or if you have a tip for a future Collective Spark Story please let us know below in the comment section.