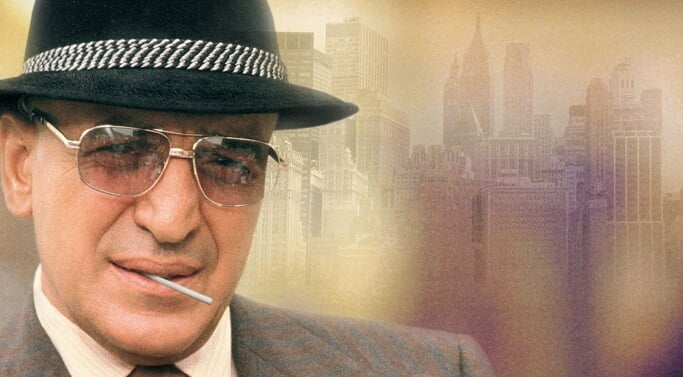 The Very Weird Tale of Kojak And The Ghostly Driver
The alleged incident supposedly happened long before he was truly famous, as he was driving in upstate New York.
By Brent Swancer | Mysterious Universe
There sure have been a lot of celebrities who have had brushes with the bizarre. One recurring face that many people recognize starting from the 1960s is that of American actor and singer Aristotelis Savalas, more commonly known by his nickname Telly Savalas. Born in Garden City, New York in 1922 to Greek immigrant parents, Savalas would go on to have a rich career in radio and TV, beginning with a stint on the State Department's Your Voice of America, on ABC News. He then became a staple of ABC radio programs, due to his deep, resonant voice, before making the move into TV, where he became known for his rugged good looks and bald head. He would appear in countless TV shows throughout the 1960s, as well as turns in movies, notably as James Bond archvillain Ernst Stavro Blofeld in the 1969 film On Her Majesty's Secret Service, even earning a nomination for the Academy Award and Golden Globe for Best Supporting Actor during his film career. He would really make a name for himself with his run as Lt. Theo Kojak on the crime drama series Kojak, which ran from 1973 to 1978, and for which he won an Emmy and two Golden Globes, making Savalas a household name, a beloved celebrity of the time, and he even had a fairly successful singing career in the 70s to boot. However, despite all of this success, he still managed to have one of the weirder celebrity encounters with the paranormal out there.
The alleged incident supposedly happened long before he was truly famous, as he was driving in upstate New York. It was the middle of the night, at 2 AM, and Savalas had the misfortune to run out of gas along an empty rural road. He got out of the car and walked all the way to a White Castle restaurant to ask for directions to the nearest gas station. He was told to take a shortcut through a dark, wooded area to the other side, where he was promised he would find a 24-hour service station. Savalas did not particularly enjoy the thought of going through those dark trees by himself, but he set out in search of the gas station and his salvation. It was as he got the courage to walk out into the gloom that he heard a voice behind him, odd considering the hour was so late and no one had been there except him and the restaurant staff. And so would begin an experience of which Savalas would later say "Something happened in my life which scared the hell out of me."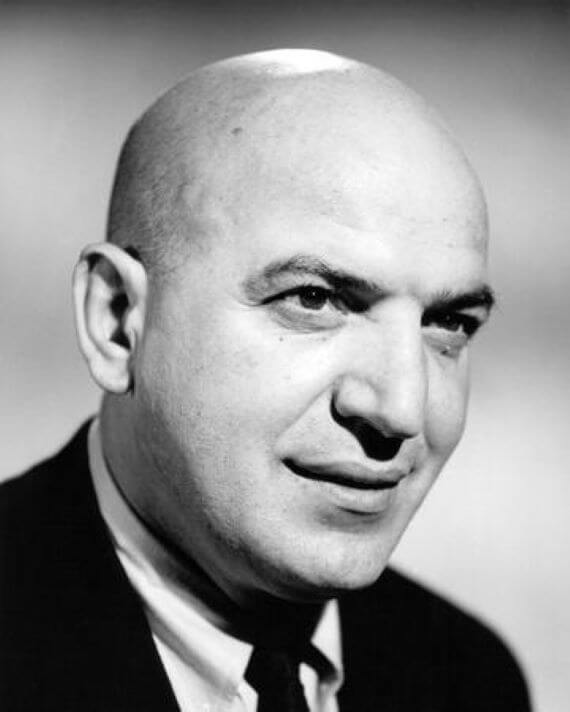 The voice apparently asked him if he was OK and needed help, and Savalas turned to see a big white Cadillac sitting there on the road, with a bald man behind the wheel described as gangly and wearing a nice white suit. Savalas was sure that he had not seen such a car when he had come in to the place, and considering it was such a flashy vehicle it was hard to miss. Where had it come from? Savalas looked at the car and its enigmatic occupant with a mixture of awe of bafflement, and when he found his voice, he croaked out that he was out of gas and needed to get to a gas station. The stranger in the white suit then said he'd give him a lift, which Savalas warily accepted. Getting into the car and talking to the stranger, he immediately noticed that there was something rather surreal about the whole thing. Not only had the car appeared out of nowhere, but the man behind the wheel had a raspy, gravelly voice and kept fidgeting with his neck for some reason, as if trying to find something there and seeming to be in pain, leading Savalas to guess that the poor guy was perhaps dealing with throat cancer.
They drove along to the service station, which was there just as promised, and once there Savalas realized that he was out of cash. He told this to the driver in the white suit, who promptly produced 5 dollars from his pocket to pass to him. Savalas asked the man to write down his address so that he could repay him later, and got to work filling a gasoline tank with gas. After he did this and they headed out again, the mysterious stranger out of nowhere asked him if he knew a certain infielder for the Boston Red Sox named "Jimmy," who Savalas said he did not. It was a rather strange comment to make, as they had not been talking about sports at all and it had come out of the blue. Savalas would later say of it, "It's so bizarre he would say that– and in the spookiest voice I ever heard." The driver merely said that it is too bad Savalas didn't know him, because the two of them were good friends. The stranger then drove him back to his car and handed him a slip of paper with his address and contact information on it, with Savalas promising to pay him back.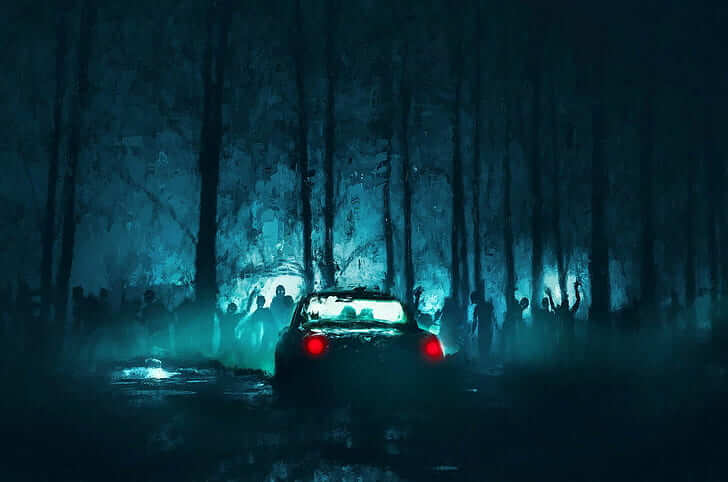 The next day, Savalas went to work as usual at the US State Department, where he was employed at the time, and at some point, he read some news that a baseball player had died, who he recognized as the same name the stranger from the night before had mentioned. Shocked, the future actor decided to get in touch with the man right away to offer his condolences, calling the number he had been given, but this was where things would get truly bizarre. A woman picked up on the other end, and when Savalas asked to speak to the white-suited gentleman she became very cold and confrontational. He asked her again to speak to the man, describing what he looked like, and then the woman gave an eerie answer, saying:
Look. You say my husband—white suit, white Cadillac. Bald head. Long arms and fingers. Tall, right? You say he stopped and gave you a lift to the gas station yesterday? Even loaned you five dollars? Well, Mr. Savalas, I simply find that hard to believe. In fact, impossible to believe. You see, Mr. Savalas, my husband has been dead for four years. Is this some sort of sick joke, Mister? Because, if so, I am not amused.
Savalas insisted that it was all real, and that he had really met this man, and somehow managed to convince the highly sceptical woman to meet him for dinner. The woman would bring photographs of her late husband, who Savalas immediately recognized as the man who had given him a lift, and he had indeed driven a big white Cadillac. She even brought samples of her husband's signature, which matched perfectly with the one on Savalas's paper. However, the man had committed suicide four years before, creepily by shooting himself in the throat, which for Savalas immediately explained the course voice and the man constantly touching his throat as if in pain. The two would come out of the meeting shaken and confused, unsure what to think, and Savalas would relate the story in several interviews and insist it was all true right up to his death in 1989. What happened to him out on that road? Who's car did he ride in? Did this really happen or was he, for whatever reasons, making it up? No one really knows, and it remains a creepy unsolved mystery.
About the Author
Brent Swancer is an author and crypto expert living in Japan. Biology, nature, and cryptozoology still remain Brent Swancer's first intellectual loves. He's written articles for MU and Daily Grail and has been a guest on Coast to Coast AM and Binnal of America.