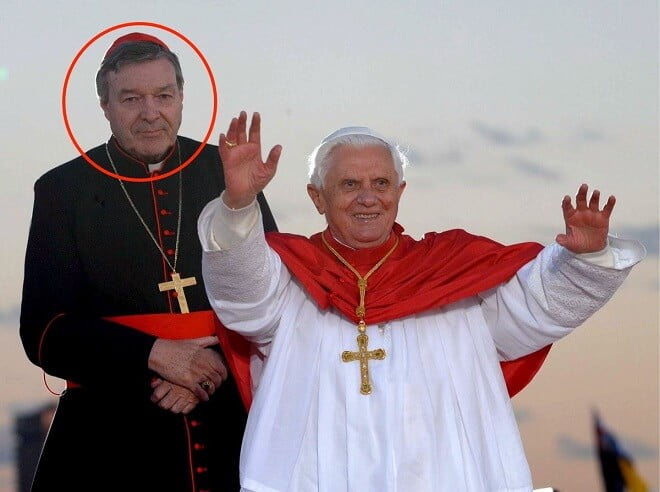 The Vatican's Cardinal George Pell Is Freed From Jail & His Child Sex Abuse Convictions Are Overturned
How has this been on-going for so long? How are these people and places still able to operate with such power? It seems that they are quite untouchable.
By Arjun Walia | Collective Evolution
Cardinal George Pell, who  a couple of years ago became  the highest ranking Vatican official to ever be convicted of child sexual abuse, has now been freed from jail after Australia's highest court overturned his conviction. The 78 year old senior Catholic figure was facing a six-year jail sentence after a jury found he was guilty of sexually abusing two boys in Melbourne in the 1990s. Seven judges ruled unanimously in Pell's favour, stating that the jury who found him guilty had "not properly considered all the evidence presented at the trial." Throughout the entire time, Pell maintained his innocence from the moment he was charged in June of 2017, and despite what's happened since, regardless of whether he's actually innocent or not, his case has brought even more attention to the on-going problem of paedophilia and sexual abuse in high level places, like the Vatican.
Although the conviction against Pell has been dropped, people will forever ponder if this man is actually guilty of what he was accused of, and perhaps much more. Unfortunately, sexual abuse within the Vatican, and other places of power has been an issue for quite some time. It begs the question, how is this type of activity able to persist and sustain itself? The answer may be simple, it could be that those involved are simply some of the most powerful people in the world. A retired police detective of 25 years, John Wedger, spent a lot of his time investigating child abuse and how it operates continually without being taken down. People are threatened, and in some cases those whom one goes to in order to solve the problem, a 'higher up,' is actually involved in it, and the investigation gets shut down You can watch the full testimony of Wedger, here.
It's disturbing to contemplate the idea that Cardinal George Pell is or would be involved in such things, after all, he himself established The Diocesan Commission Into Sexual Abuse in 1996. If he is in fact guilty, this leads to the point above made by Wedger, that the people responsible for tackling this issue are actually involved and part of the problem. That being said, Pell is innocent under the law.
It's no secret that sexual abuse scandals have plagued the Catholic Church for decades, and it seems almost every single year. For example, prior to the accusations against Pell, in 2015 a lawyer by the name of Ulrich Weber uncovered that for the thirty year reign of boys choir run by Benedicts XVI's elder brother, approximately 600 boys with a "high degree of plausibility" were victims of sexual and physical abuse, or both. The report identified 500 cases of physical abuse, and 67 cases of sexual abused committed by a total of 49 people in a position of power within the church. (source)
Furthermore, it was only a few months ago when Carlo Maria Vigano, former Apostolic Nuncio to the United States and Secretary-General of the Governor of Vatican City, implicated multiple church officials, including Pope Francis, in sexual abuse. You can read more about that here.
With everything that's emerged with regards to Jeffrey Epstein and child sex trafficking over the past couple of years alone, it really makes one wonder, Especially the fact that it seems Epstein was involved in a blackmail operation and working for some powerful people.
A couple of years ago, Pope Francis compared child abuse within the Catholic Church to a "satanic mass."
The Reverend Gabriele Amorth is another example, he was an Italian Roman Catholic Priest, and an exorcist of the Diocese of Rome, which is an administrative branch of the Catholic Church of Rome. He claimed to have performed tens of thousands of exorcisms over his half a dozen plus decades as a Catholic Priest, and has mentioned a number of times how Satanism is practiced within the Vatican.  He has also claimed that girls are commonly kidnapped by a gang of Vatican police and foreign diplomats. He claimed that these girls are recruited for Vatican parties, and crimes with a sexual motive.
Malachi Martin, an Irish Catholic priest and writer on the Catholic Church who published many books exposing the Vatican was  originally ordained as a Jesuit priest, he eventually became Professor of Palaeography at the Vatican's Pontifical Biblical Institute and was one of many who exposed the practice of Satanism within the Vatican.
These are just a few examples of why so many people believe something fishy is going on, regardless of whether or not Pell is innocent or guilty. Is something beyond the abuse of children happening here? Some sort of 'ritual' abuse? How has this been on-going for so long? How are these people and places still able to operate with such power? It seems that they are quite untouchable.
This article (The Vatican's Cardinal George Pell Is Freed From Jail & His Child Sex Abuse Convictions Are Overturned) was originally published on Collective Evolution and is published under a Creative Commons license.