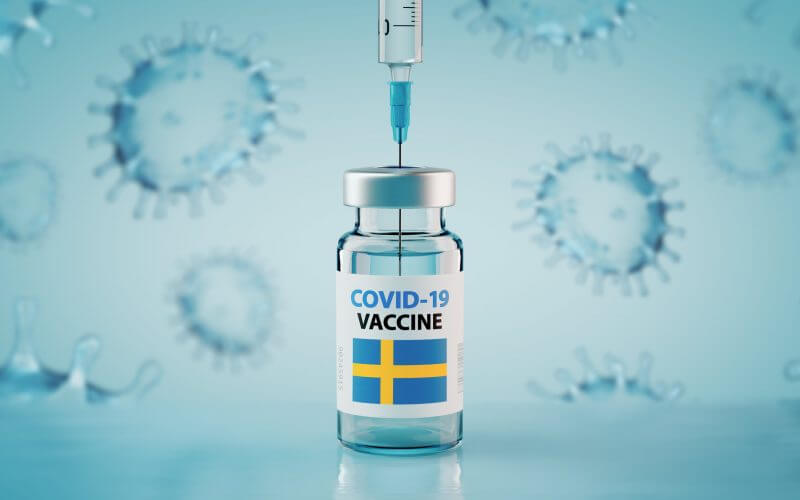 Sweden Refuses To Recommend COVID Vaccines For Children Under 12
Sweden recently announced that it will not recommend COVID inoculations for children under the age of 12. Norway also made a similar announcement.
By Arjun Walia | The Pulse
When it comes to recommending COVID vaccines, Sweden has refused to do so for children under the age of 12. Vaccines are not mandatory in Sweden. But if an organizer of a large sporting event, cinema, theatre or concert wants to implement a vaccine mandate, they have the right to do so.
Swedish Health Agency official Britta Bjorkholm recently stated the following,
"With the knowledge we have today, with a low risk for serious disease for kids, we don't see any clear benefit with vaccinating them." – Reuters
Sweden is recommending that all other age groups get vaccinated, but also stresses that this will remain a voluntary act. The Swedish government also acknowledges the fact that COVID is "primarily dangerous for those over the age of 65 and for those who have other diseases."
We've seen with data from around the world that most people are not vulnerable to severe COVID. For example, in the United States 95% of people who have died with COVID also have an average of at least 4 other causes listed on their death certificates. In the United Kingdom, only 6,183 deaths can be solely attributed to COVID.
Sweden goes on to state,
"Children and adolescents usually experience mild symptoms of COVID-19…Children do not infect other people with COVID-19 as easily as adults do."
Children being poor spreaders of COVID is also true. Numerous large observational population studies show that children are poor spreaders of COVID. This includes studies from Ireland, Iceland, Italy, France, and Australia. For a more complete reference list, see Washington University Pediatric & Adolescent Ambulatory Research Consortium.
As far as severity of COVID for kids, there is lots of data. For example, a new study out of Germany, currently in pre-print form, assessed the absolute risk of COVID for children. For healthy kids, the risk of death is 3 per 1,000,000 with no deaths reported in kids younger than 12. This data about children and COVID also correlates with data from all over the world.
During the first wave of the pandemic, Jonas F. Ludvigsson a paediatrician at Örebro University Hospital in Sweden and professor of clinical epidemiology at the Karolinska Institute, published research showing that out of nearly 2 million school children in Sweden, zero died from COVID. This was despite no lockdowns, school closings or mask mandates during the first wave of the pandemic.
Sweden is not the only country who is not recommending vaccines for children. The Norwegian government recently announced it has not recommended that all children aged fifteen and under be vaccinated.
Norwegian authorities have also explained that, according to a major Danish newspaper, children can be better protected against future coronavirus variants if they are infected naturally instead of vaccinated. This also happens to correlate with science and is an evidence based assessment.
More than 130 studies have now been published emphasizing the power of natural immunity. This was also recently emphasized by the Head of the Department of Microbiology and Immunology at Tel Aviv University, Professor Ehud Qimron. It was also confirmed by the CDC. He has criticized the Israeli Minister of Health for all of their COVID policies in an eye opening letter.
Norway is also not recommending a second dose of a COVID vaccine for 12-15 year old children who have already had one dose due to the elevated risk of myocarditis. This decision is backed by science. For example, in November 2021 Taiwan joined Iceland, Sweden, Finland and Denmark in halting second doses of a COVID vaccine for children under the age of 17 due to myocarditis concerns. In Iceland, Sweden, Finland and Denmark they stopped for anyone under the age of 30.
Vaccine injuries are another concern. In the U.S., approximately 50% of vaccine injuries reported to VAERS in the last 30 years are all from COVID vaccines. COVID vaccines may be more dangerous for children than an actual COVID infection.
An opinion article published in the European Journal of Medical Ethics in early July 2021 explains,
"Not only would vaccinating children pose risks on them without any substantial direct benefit. Also, vaccinating children can only offer collective good if this reduces infection levels in the community. However, while COVID-19 vaccines almost certainly will provide long-term protection against severe disease and death, their infection blocking effects are incomplete and very likely to be transient. This means there is actually no collective benefit to trade off against individual harm to children, unless we perform mass vaccination on a regular basis, for example, annually. But this would compound the potential harms."
For adults as well as children, COVID vaccines do not stop infection or transmission of the virus. This has not been a "pandemic of the unvaccinated" as politicians have claimed. Throughout this pandemic there have been multiple examples of the most vaccinated regions and countries on earth experiencing large COVID outbreaks that include severe outcomes. COVID vaccines are "leaky" vaccines.
Given all this data, it's not a surprise to see Sweden refusing to recommend COVID vaccines for children under the age of 12.
This article (Sweden Refuses To Recommend COVID Vaccines For Children Under 12) was originally published on The Pulse and is published under a Creative Commons license.