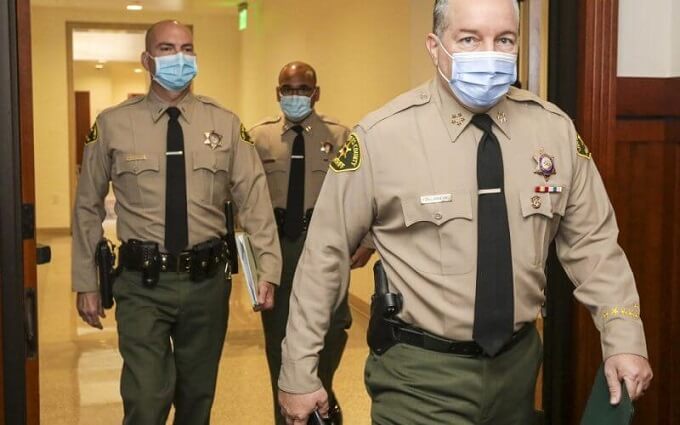 L.A. County Sheriff Says The Police Will Not Enforce 'Unscientific' Mask Mandates
The Los Angeles County Sheriff's Department on Friday ripped the regions newly reinstated indoor mask mandate - saying the COVID-19 precaution is "not backed by science" and that the law enforcement agency won't enforce it.
By Arjun Walia | The Pulse
On Friday, the Los Angeles County Sheriff's Department rejected the regions reinstated indoor mask mandate, expressing that the precaution to combat the spread of COVID is "not backed by science" and as result, the law enforcement agency will not enforce it.
Sheriff Alex Villanueva put out the following statement on July 16th,
Forcing the vaccinated and those who already contracted COVID-19 to wear masks indoors is not backed by science and contradicts the U.S. Centres for Disease Control and Prevention (CDC) guidelines. The Los Angeles County Department of Public Health (DPH) has authority to enforce the order, but the underfunded/defunded Los Angeles County Sheriff's Department will not expend our limited resources and instead ask for voluntary compliance. We encourage the DPH to work collaboratively with the Board of Supervisors and law enforcement to establish mandates that are both achievable and supported by science.
Forcing the vaccinated to wear a mask doesn't make much sense if the vaccine actually works. It's also great to see Villanueva acknowledge the idea that those who have already contracted COVID-19 shouldn't have to wear a mask either.
This is true given the science now available suggesting that a previous COVID infection can provide robust immunity that may last a lifetime, even against variants.
Last fall there were reports that antibodies wane quickly after infection with the virus that causes COVID-19, and mainstream media interpreted that to mean that immunity was not long-lived. But that's a misrepresentation of the data. It's normal for antibody levels to go down after acute infection, but they don't go down to zero; they plateau. Here, we found antibody-producing cells in people 11 months after first symptoms. These cells will live and produce antibodies for the rest of people's lives. That's strong evidence for long-lasting immunity. – Ali Ellebedy, PhD, an associate professor of pathology & immunology, of medicine and micro-biology.
The information we are getting from government health authorities and most of mainstream media seems to be a one sided story that's not really presenting the science of masks on both sides of the coin. "Masks save lives" is a slogan that actually doesn't appear to be black and white. One can find multiple studies that say masks can be useful in stopping the spread of COVID, but they can also find just as many, if not more, claiming that this assertion simply isn't true. So why is only one side spoken about? Does this not warrant deeper inquiry, discussion and perhaps freedom of choice?
Furthermore, there are multiple publications raising health concerns with regards to prolonged mask wearing. A recently published meta-analysis examined potential health problems associated with extended mask use and determined that there are concerns and possible health consequences that can arise as a result. These researchers are under the impression that extended mask wearing can actually be dangerous. This perspective is often labelled as "fake news."
The general scientific consensus seems to be that many more people have been infected with COVID than what our tests are showing because we don't have the capacity to test everyone. The number could be well over a billion, and infection from previous coronaviruses, many of which are the common cold/flu, can also provide protection against COVID and its variants.
Perhaps this is why the survival rate of COVID is quite high for relatively healthy people under the age of 70. This calls into question the mask mandate for anybody.
The high survival rate among younger people in particular is something we've seen throughout the pandemic as well. For example, data from 1st year of England's pandemic reports 25 under-18s died from COVİD. For comparison, estimates for Respiratory Syncytial Virus (RSV) in the UK report approx. 450,000 GP appointments, 29,000 hospitalisations and 83 deaths per year in children and adolescents.
Early on in the pandemic, Jonas F Ludvigsson, a paediatrician at Örebro University Hospital and professor of clinical epidemiology at the Karolinska Institute, published data showing that during the first wave in Sweden, despite no lockdowns or mask mandates, zero children died from COVID.
At the end of the day, the mainstream continues to avoid having balanced conversations about COVİD and other "controversial" topics. Mass culture only gets a one sided story. What may be worse is the fact that "fact-checkers" are attacking legitimate information and the opinions of experts when their opinions opposes mainstream media. This begs the question, what is really going on here?
A recent article published in the British Medical Journal by journalist Laurie Clarke has highlighted the fact that Facebook has already removed at least 16 million pieces of content from its platform and added warnings to approximately 167 million others. YouTube has removed nearly 1 million videos related to, according to them, "dangerous or misleading covid-19 medical information."
People can only be pushed to comply and enforce measures until it goes against their conscience. This is exactly what we are seeing with law enforcement in this particular case, and it's refreshing to see.
This article (L.A. County Sheriff Says The Police Will Not Enforce 'Unscientific' Mask Mandates) was originally published on The Pulse and is published under a Creative Commons license.