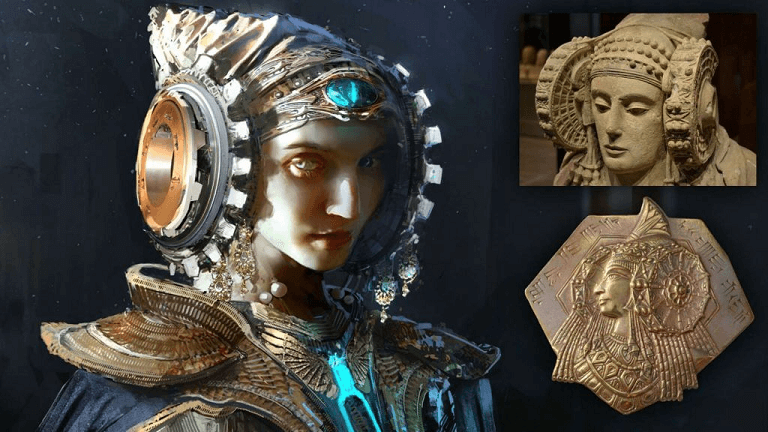 Is Lady of Elche With Mysterious Helmet A Descendant of Another Civilization?
One of the most enigmatic ancient sculptures ever discovered is The Lady of Elche, with its strange helmet that could link it to a long-lost prehistoric civilization or visitors from other worlds.
By: Vicky Verma | How & Whys
In recent years, the sculpture of the mysterious "Lady of Elche" has created a lot of controversy among researchers and theorists, and the debate has been continuing for over a century. Her enigmatic headdress or helmet with wheel-like coils is puzzling to archaeologists' as many believe it could be related to an ancient lost civilization and even beings from other worlds.
The impressive sculpture of Lady of Elche was discovered at the archaeological site of La Alcudia in Elche, Spain. It is still unidentified if the Lady of Elche is an imposing queen or a powerful priestess, which has generated some debate between theorists and researchers.
However, several hypotheses suggest that this enigmatic woman may actually be a Moorish queen, a witch, and a stranger but still, an "extraterrestrial visitor from another planet." Nevertheless, archaeologists' believe the bust is a uniquely Iberian portrayal of the Carthaginian mother goddess Tanit, used as a funerary urn in antiquity.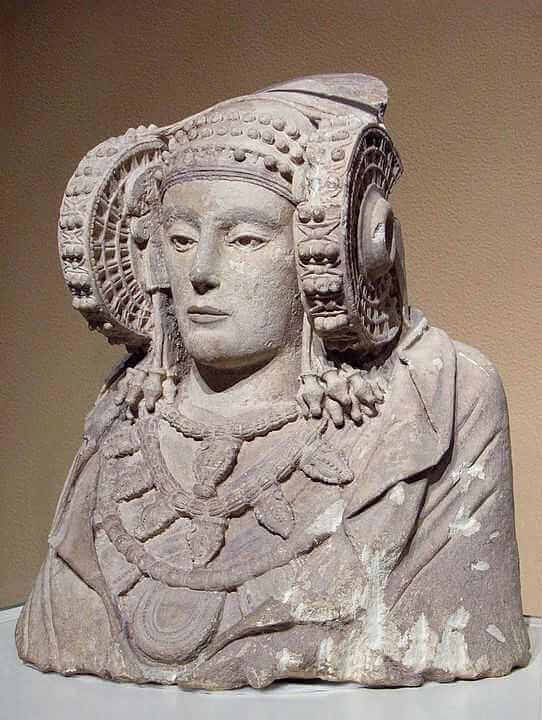 The polychromed bust was carved from porous limestone 56 cm high, 45 cm wide, and 37 cm deep. In addition, it weighs 65 kg (143 lb). It was accidentally discovered by a farm worker Manuel Campello Esclapez while cleaning the southeast slope of La Alcudia for agricultural purposes on the La Alcúdia estate, in Elche.
Experts believe that the sculpture belongs to the fourth century BC, thus confirming the existence of an extinct Iberian culture. What has most surprised archaeologists is the perfect intact sculpture, compared to others in the region. This has led many theorists to suggest that the bust was "decontextualized." In short, it was deliberately removed from somewhere and placed where it was found. In this way, it could have been protected or hidden in a way that no one could find it. Or if they did, their meaning was unclear.
The bust is of a woman with outlined features, perfectly dressed in 3 striking garments; a tunic, a dress, and an open cape. It also had traces of paint at the time of its discovery, which means whoever sculpted it quite possibly painted it.
Undoubtedly, the most surprising thing about the sculpture is the large "Coils" that frame her face. These seem to be some kind of hairstyle or braid. In addition, she has earrings that extend to her shoulders and a huge ornament around her neck. It is plausible that they could be a part of her headdress or some kind of strange helmet.
Unknown Origin of Lady of Elche
The origin of the Lady of Elche continues to generate conflicts within the scientific community. Archaeologists failed to reach a consensus, and theories only bring more mess. The most widely accepted hypothesis at the moment is that the sculpture is Iberian. It could be the representation of a very influential queen, due to the decorations that she had.
Other researchers suggest that she was an unknown priestess or goddess, perhaps linked to the Basque culture. Reference has also been made to the goddess of Carthage, Tanit, best known for her powers over the moon, sun, and stars. But some researchers have said that it is possible that what the Lady of Elche is wearing is not a hairstyle, but actually a helmet.
According to conventional theories, the headdress is just a hairstyle. However, no culture in the area was known to use such extravagant elements in their clothing. Therefore, the Lady of Elche would not belong to any known region.
Experts Believe Mysterious Aluminium Object Dating Back 250,000 Years 'Could Be Part of Ancient UFO'
Could Lady of Elche Be A descendant of Atlantis?
According to Greek philosopher Plato, Atlantis was located in that region of the Iberian Peninsula. In addition, Lady of Elche's helmet would reflect an advanced society. Currently, the bust is in Madrid and its replica is in the Museum of Archeology and History of Elche.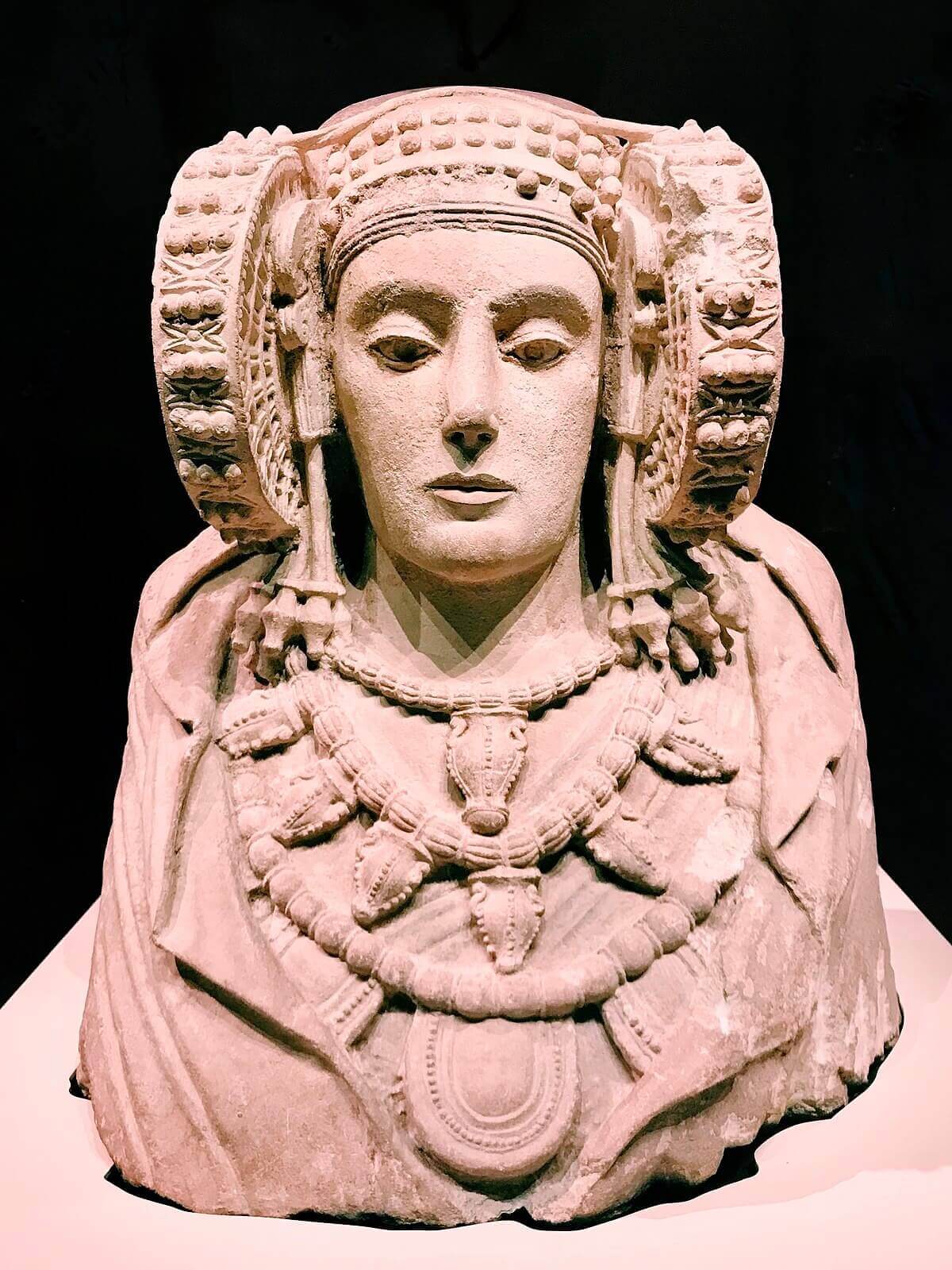 Lady of Guardamar (Dama de Guardamar), is a limestone female bust, 50 cm high, dated circa 400 BCE, that was discovered in fragments in the Phoenician archaeological site of Cabezo Lucero in Guardamar del Segura in Alicante province, Spain, on September 22, 1987:
Another more intrigued discovery, similar to Elche: the Lady of Guardamar that was discovered in Alicante province, Spain, on September 22, 1987. Additionally, the mystery deepened after 12 medallions inscribed with a figure similar to the Lady of Elche, and cuneiform inscriptions were discovered in 1969 in Richfield, Utah, United States. To date, these medallions are among the most enigmatic archaeological discoveries in the United States.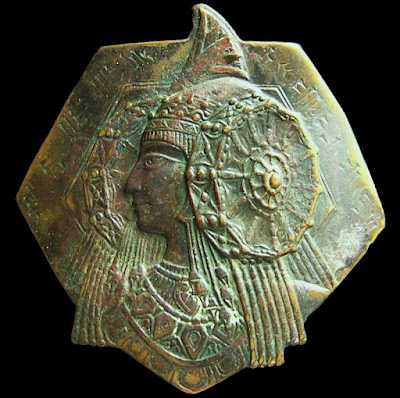 There have always been rumours of forgery surrounding the discovery and debate about the authenticity of the Lady of Elche. But in 2011 research carried out using electron microscopy and x-ray technology found that the piece is original, and confirmed its use as an ancient urn. Traces of ashes containing fragments of human bone were detected in the study and carbon-dated to be more than 2,500 years old, making it contemporaneous with the ancient Iberian epoch.
*  *  *
NEXT UP!
Joyeuse: The Legendary Sword of Charlemagne
The sword of Joyeuse, which today sits in the Louvre Museum, is one of the most famous swords in history. Historical records link the sword to Charlemagne the Great, King of the Franks.
If it did indeed belong to the famous king, who reigned some 1,200 years ago, the sword of Joyeuse would have been used in countless coronation ceremonies, and is tied with ancient myth and legend ascribing it with magical powers.
The story begins in the year 802 AD. Legend states that the sword of Joyeuse, meaning "joyful" in French, was forged by the famous blacksmith Galas, and took three years to complete. The sword was described as having magical powers associated with it. It was said to have been so bright that it could outshine the sun and blind its wielder's enemies in battle, and any person who wielded the legendary sword could not be poisoned. The Emperor Charlemagne, coming back from Spain was said to have set up camp in the region and acquired the sword.
*  *  *
READ MORE: Anunnaki Artefacts That NASA Is Hiding (Video)
Read more on Ancient Artefacts: This Man Underwent Brain Surgery 3,500 Years Ago
Liked it? Take a second to support Collective Spark.
We'd love to hear from you! If you have a comment about this article or if you have a tip for a future Collective Spark Story please let us know below in the comment section.