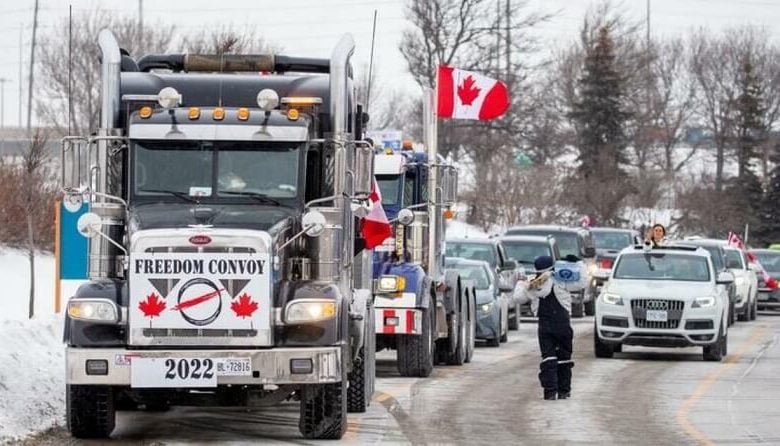 World
GoFundMe 'Steals' $9 Million From Canada's "Freedom Convoy" Truckers Under Pressure From Trudeau
GoFundMe has shut down funds to the Trucker Convoy over lies about violence. Here's how you can still help! What's happening here is ridiculous!
By Tyler Durden | Zero Hedge
Despite initially refusing to cave to pressure from Canadian PM Justin Trudeau and his allies, GoFundMe announced late Friday evening that it had decided not to disburse any more money to the "Freedom Convoy" and its supporters gathered in Coutts, Alberta and Ottawa. Users will now need to request a refund of their donation, or risk the possibility that the company will instead reroute it to an "approved" charity.
As Rebel News Editor-in-Chief Ezra Levant reported in a tweet, GoFundMe has decided to take – or some might say steal – the roughly CAD$9 million that was supposed to be used to pay for supplies like gas, food and other necessities for the truckers and instead dole that money out to charities of the company's choosing, unless donors fill out a request form.
Why the company has decided on this policy, instead of instating automatic refunds for donors, isn't clear. But as Levant joked, "what a windfall" for Black Lives Matter, Greenpeace and Planned Parenthood."
At the request of Trudeau, @GoFundMe has just stolen $9,000,000 from the truckers. Rather than automatically refunding it to the donors, they say they're going to give it to groups of their own choosing. What a windfall for Black Lives Matter, Greenpeace and Planned Parenthood! pic.twitter.com/prEwLnypfe

— Ezra Levant 🍁🚛 (@ezralevant) February 4, 2022
GoFundMe claimed that the fundraiser is in violation of "Term 8″ of its terms of service clause, and also explained that it often works with local authorities to "make sure we have a detailed understanding…of facts on the ground."
The decision was made in order to ensure GoFundMe "remains a trusted platform".
Others wondered how any of this is legal.
How is this legal? https://t.co/2O3sKAOZmL

— Benny Johnson (@bennyjohnson) February 5, 2022
The Ottawa police, meanwhile, insist that demonstrators in the city are acting "unlawfully". Several have been arrested (mostly for charges that may seem serious but actually aren't) for making threatening statements on social media and for other issues.
Ottawa Police have also warned that they will be collecting as much digital and financial information as they can from both the truckers and anybody who donates to support them. In a threatening statement, the police implied that supporters of the Freedom Convoy could face prosecution just for donating.
Enhanced intelligence operations and investigations: National, provincial and local intelligence agencies have increased efforts to identify and target protestors who are funding/supporting/enabling unlawful and harmful activity by protestors. /11

— Ottawa Police (@OttawaPolice) February 4, 2022
At this point, there's really nothing else for users to do but request their refund (so that GoFundMe doesn't simply take their money) and never donate to another fundraiser on the platform again.
Readers can find the link below:
Here is the link for where you can request your full refund from GoFundMehttps://t.co/Cs5qbRIHzz

— Cory Morgan (@CoryBMorgan) February 4, 2022
After all, there are plenty other crowdraising platforms out there.
This article (GoFundMe 'Steals' $9 Million From Canada's "Freedom Convoy" Truckers Under Pressure From Trudeau) was originally published on Zero Hedge and is published under a Creative Commons license.