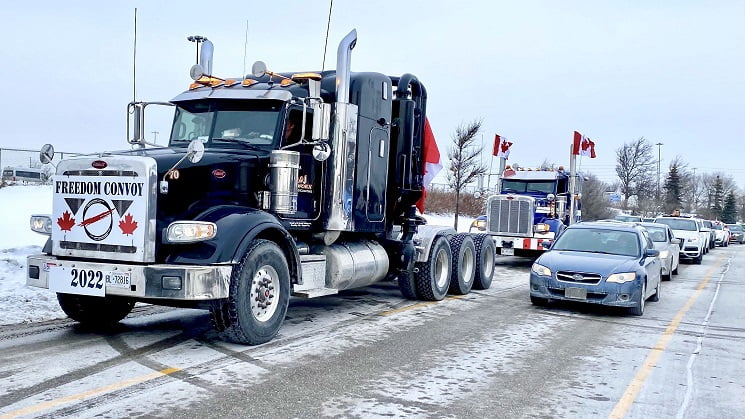 Freedom Convoy Raises $4.3 Million In New Campaign: GoFundMe Can't Stop This
The goal is $16 million and it's rising fast. The support for this movement has been historical, and full of both vaccinated and unvaccinated individuals against COVID mandates.
By Arjun Walia | The Pulse
If you haven't already heard, GoFundMe shut down the funding campaign of the Canadian Freedom Trucking Convoy over false reports that the protest is a violent and "unlawful one."
The pulse has been on the ground in Ottawa, and it's quite clear these protests are very peaceful. That being said, several thousands of people are on the ground daily and when that happens, you're going to have some isolated incidents of radical behaviour. Legacy media is painting an incorrect picture of what's actually happening, which is peaceful unity, love and cooperation.
You can stay up to date with our coverage on Instagram, Facebook, Youtube and Telegram.
As a result of the GoFundMe being shut down, a new funding campaign was initiated by the organizers, and so far it's raised approximately $4.3 million. These truckers have vowed not to leave until all COVID mandates are lifted. What's also encouraging is that when the GoFundMe money is returned to the donors, it's safe to assume much of it will be re-routed to this new campaign.
The goal is to raise $16 million to cover fuel, food and housing expenses for the convoy.
The support for these truckers, as well as the people who are on the scene has been overwhelming. The streets in Ottawa and cities around the country have been flooded with peaceful demonstrations. There is no evidence that these protests are a "fringe minority" of "racist and misogynistic" extremists as the Canadian Prime Minister has claimed.
Furthermore, a new poll conducted by the Angus Reid Institute shows that the majority (54%) of Canadians now say they want all COVID restrictions to end.
Perhaps this large gathering succeed in ending all mandates. It's already happening in multiple countries after massive protests, although protestors have not been credited. Instead, the supposed success of the vaccine and government measures are cited.
Should we really give governments so much power to the point where they can take away people's rights and freedoms and ability to put food on the table? The emergency measures put in place by governments have been largely inadequate, unsuccessful and some have even killed more people than the virus itself.
This article (Freedom Convoy Raises $4.3 Million In New Campaign: GoFundMe Can't Stop This) was originally published on The Pulse and is published under a Creative Commons license.