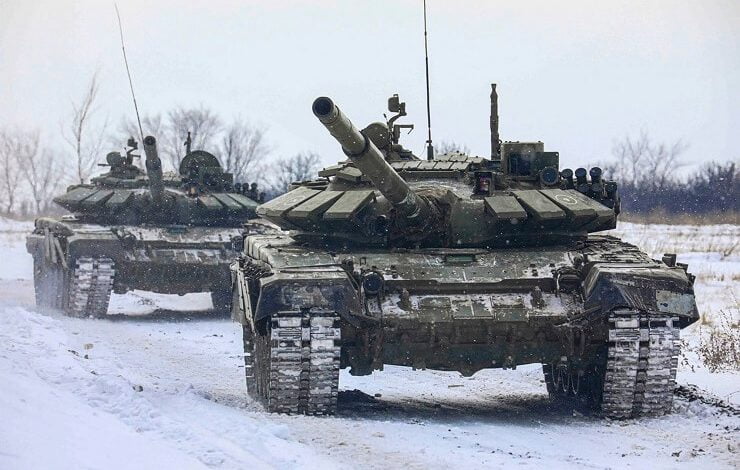 World
First Major Ukrainian City Falls To Russian Forces In South As Warships Eye Odessa
Russian forces seized the southern city of Kherson and besieged other cities, with casualties and destruction mounting, as Western sanctions tightened their vise grip on Russia's economy.
By Tyler Durden | Zero Hedge
Update(2152ET): Following a day of conflicting claims and counter-claims over whether the strategically important southern Ukrainian city of Kherson was in Russia's hands, the AFP is reporting just after 4am Kiev time that "Ukrainian officials confirm Russia's capture of southern city Kherson."
Kiev over the past hours had disputed Russian reports that Kherson had been fully captured by the invading forces. According to a breaking Newsweek report:
Kherson, a key strategic point along the Black Sea, has been captured by Russia, making it the first major Ukrainian city to fall to invading Russian forces.
As the fighting raged into its seventh day, throngs of the Russian military were seen advancing upon the city of approximately 300,000 people. By Wednesday, reports emerged that the city centre had fallen to the Russians, with the Russian Defence Ministry saying that its military had "taken full control" of Kherson.
Several Russian warships have left Crimea and are heading to Odesa. An amphibious assault on Ukraine's third largest city could come as soon as Thursday: U.S. officials

— Lucas Tomlinson (@LucasFoxNews) March 3, 2022
Now US officials are warning that a Russian warship group is en route to Odessa – which appears next target for Russia's advance from the south. An important Black Sea city of over one million people, Odessa is home to the main operational base for Ukraine's navy.
The Newsweek report notes further that "Kherson also provides access to the Russian-annexed territory of Crimea as well as the critical port city of Odessa." And "Most importantly to the Russians, though, will likely be Kherson's position on the Black Sea, which could allow the military to exploit its strategic location." Meanwhile, a grim declaration…
The war is entering a new, even more brutal, phase. As Russian forces begin to encircle and shell Ukrainian cities, @KyivIndependent is reporting that Ukrainian special forces will no longer capture Russian artillerymen — they will kill them instead. https://t.co/FCGDo20rCJ

— Jason Lyall (@jaylyall_red5) March 3, 2022
* * *
Update(1538ET): Estimates in media reports based on Pentagon sources now after a week of the offensive on Ukraine indicate Russia has fired about 450 missiles of various types.
The widely reported "40-mile column" of infantry, tank and artillery forces expected to mount a major assault on Kiev is still stalled according to the Pentagon, likely due to significant logistical hurdles including lack of adequate food and fuel slowing the pace of advance.
Russian strike near the train station in #Kyiv this eveningpic.twitter.com/HkXMAO2t0J

— marqs (@MarQs__) March 2, 2022
And in a significant afternoon development, the White House is mulling taking action against Russian oil and gas, while trying to mitigate the blowback to Americans and the global economy. A fresh statement said the US and its allies "share a strong interest in degrading Russia's status as a leading energy supplier." This is expected to include export controls on sales of oil technology to Russia or Russia-linked entities. Bloomberg details…
It was not immediately clear what oil technology would be hit by the latest wave of export controls — including equipment to coax oil and gas out of wells or refine it into diesel and gasoline. The White House said the controls would target "oil refining, a key revenue source" that supports the Russian military, but also described "export controls on oil and gas extraction equipment."
A bridge was blown up in Baryshivka near #Kyiv, as Russian forces are approaching the city from the east. pic.twitter.com/oWzhMVrt6y

— Michael A. Horowitz (@michaelh992) March 2, 2022
* * *
Update(1214ET): Russian has cited the head of Russia's delegation Vladimir Medinsky to say that the next round of Russia-Ukraine talks will not meet until Thursday morning, as the Ukrainian delegation is making its way from Kiev. The location has been identified as Brest city in Belarus on the Polish border. There are reports from the Russian side that a "ceasefire" is on the agenda.
Interfax has cited FM Lavrov to say that the Russian side is "ready" to discuss President Zelensky's desire to talk security guarantees. Lavrov further repeated that Moscow's ultimate aim is "demilitarization" – and amid accusations the Kremlin is seeking full regime change in Kiev, the Russian top diplomat responded by saying that "Ukrainians must decide on their own leaders".  Lavrov was further cited as saying he's open to discussions seeking agreement on types of weapons specified that "can never be deployed in Ukraine."
Risk markets seem to be reacting to this story on Bloomberg

—

ALERT Russian negotiator says ceasefire on agenda at Ukraine talks

March 2 (AFP) — Russian negotiator says ceasefire on agenda at Ukraine talks
jbr/oc/har

— Jim Bianco biancoresearch.eth (@biancoresearch) March 2, 2022
However, Ukraine's negotiators have emphasized that their demands remain unchanged.
RUSSIA'S ENVOY TO U.N. URGES GENERAL ASSEMBLY TO REJECT RESOLUTION DEPLORING RUSSIA'S INVASION OF UKRAINE, SAYING IT COULD SPUR ESCALATION
UKRAINIAN OFFICIALS EXPECTED TO ARRIVE IN BELARUS ON THURSDAY FOR NEXT ROUND OF TALKS – TASS QUOTES HEAD OF RUSSIAN DELEGATION
UN GENERAL ASSEMBLY EMERGENCY SESSION RESOLUTION CALLS ON RUSSIA TO WITHDRAW ALL ITS TROOPS IMMEDIATELY, COMPLETELY AND UNCONDITIONALLY
U.S. HAS INDICATIONS THAT UKRAINIAN RESISTANCE HAS TRIED TO SLOW RUSSIA CONVOY HEADING TOWARD KYIV – U.S. OFFICIAL
SENIOR PENTAGON OFFICIAL: 80% OF RUSSIAN TROOPS MASSING OUTSIDE UKRAINE ARE NOW INSIDE
Extraordinary footage pic.twitter.com/ZwUE8Mm0uh

— Maria Tadeo (@mariatad) March 2, 2022
Latest war map, via Bloomberg: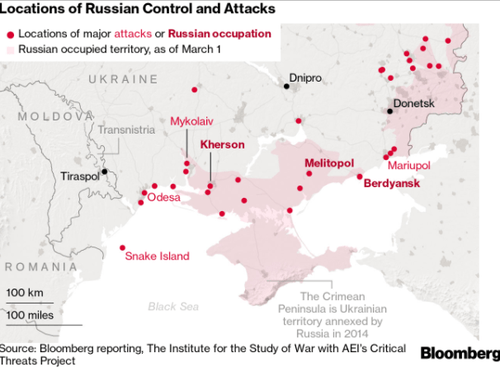 And below is the latest on the situation on the ground in terms of Russian advances, via Bloomberg:
Russia's claim to have captured the port city of Kherson in southern Ukraine makes increasingly clear that its invasion, while slowed in the north, is gaining traction in the country's open and hard-to-defend coastal plains.
Along with Russia's shift to more aggressive aerial attacks on urban centres, it is leading to a tempering of optimism over Ukraine's ability to sustain its so far effective organized resistance against a vastly superior force.
"We are now in for the long haul and Russia is reorganizing itself to ensure that it wins this war," according to Keir Giles, senior consulting fellow for the Russia and Eurasia program at Chatham House, who spoke on a webinar. "So the implications of the Russian way of war is that we need to prepare now for humanitarian catastrophe."
* * *
Update(10:28amET): As the second Ukraine-Russia talks are kicking off – aimed at a ceasefire and for Russia to halt its invasion and depart Ukrainian soil – Ukraine's foreign minister has said his country is "ready to negotiate" with Russia. However he stressed that Kiev is not willing to accept "ultimatums":
With a first round of talks already having taken place on Monday, Dmytro Kuleba said on Wednesday "there has been no betrayal. The demands of the Russians remain unchanged."
Speaking in a Facebook livestream, he said Russia's demands were the same as those Russian President Vladimir Putin announced "before the war."
Belarus' BelTA news agency has indicated that the Russian delegation is en route to an undisclosed location for talks with the Ukrainian side. The initial Monday talks were held somewhere along the Belarus-Ukraine border on the Belarusian side.
Kharkiv pic.twitter.com/4gioz8EV9A

— Aldin 🇧🇦 (@aldin_aba) March 2, 2022
And according to the AP, the Kremlin has confirmed the talks will begin imminently:
Even as Russia pressed its assault, Kremlin spokesman Dmitry Peskov said Wednesday that a delegation would be ready later in the day to meet Ukrainian officials.
Ukrainian Foreign Minister Dmytro Kuleba also said his country was ready — but noted that Russia's demands have not changed and that he wouldn't accept any ultimatums. Neither side said where the talks might take place.
On Wednesday morning the White House indicated for the first time that it's "very open" to the possibility of sanctioning Russian oil and gas – which would mark a huge escalation against the Russian economy, but with obvious massive implications for global energy and markets. Press Secretary Jen Psaki's statements came during an MSNBC interview:
"I think it's important for people to know is how we can maximize the impact on the squeeze on President Putin and the financial sector. We're already seeing that. You know, the Ruble, their currency is plummeting, we're seeing the stock market plummet there, inflation is skyrocketing," Psaki said in an interview on MSNBC's "Way Too Early."
Jen Psaki Says Sanctioning Russian Oil and Gas 'Very Much On The Table' https://t.co/QXnRilggMP via @mediaite pic.twitter.com/VQ6oU7Ad5U

— Tommy moderna-vaX-Topher (@tommyxtopher) March 2, 2022
She stipulated that the admin would seek to "minimize the impact on the global marketplace."
"That includes the global oil marketplace, and the impact of energy prices for the American people. So, that's one of the factors that we really look at," she said. "We're considering it, it's very much on the table, but we need to weigh what all of the impacts will be. We're not trying to hurt ourselves, we're trying to hurt President Putin and the Russian economy."
Meanwhile Ukraine's military is saying that it's uncovered proof that Russia's invasion was long in planning…
Ukrainian Defense Ministry claims to have discovered documents maps and plans for the #Russian invasion of #Ukraine, approved back in January (January 18) pic.twitter.com/dmrd5uGSWg

— Michael A. Horowitz (@michaelh992) March 2, 2022
* * *
Ukraine's Presidential Office has said the second round of talks with Russia are moving forward, after there were prior doubts on whether they would happen. "Now it's official. The second round of talks between Ukraine and the occupier will take place today," a statement said. "The delegations will be in the same composition," it added, while stressing Ukraine will "hold its ground". 
The West has ratcheted up the pressure on Russia as heavy fighting and bombardment is still centred on Ukraine's second largest city of Kharkiv. City authorities have said a Russian cruise missile hit and destroyed the city council building – though there were no immediate reports of casualties. Feeling the pressure of the US and EU-led economic war which seeks to severely punish Moscow short of actual military intervention, the Kremlin issued a statement Wednesday saying it "hopes NATO has the good sense to avoid conflict" as reported by state-run TASS.
Reportedly the main police security headquarters in Kharkiv has been hit in a Russian missile strike pic.twitter.com/pX35qfZqgQ

— ELINT News (@ELINTNews) March 2, 2022
As of Tuesday, a UN report cited at least 536 civilians killed, among these 13 children. Refugees have continued fleeing, mostly across borders leading West, with the UN's High Commissioner for Refugees announcing that since last Thursday's (Feb.24) start of the invasion, it's counted 835,928 refugees who have fled. "More than half of them (453,982) fled via Poland. Another 116,348 went to Hungary, according to the UNHCR," CNN cites a new report as saying.
Additionally the organization counted 96,000 refugees who fled into the Russian Federation from the breakaway republics Donetsk and Luhansk. This occurred between February 18 and 23rd. Though the New York Times and others have opted to label anyone escaping the fighting into Russia as "migrants" – this makes almost one million total refugees who fled the war-torn chaos by the first week's close.
According to the latest broad update on where the bulk of the fighting is taking place, CNN describes:
Russia's military appears to be steadily advancing on key southern cities. Russia's Ministry of Defence said its forces now fully held Kherson, though Ukrainian authorities denied it, saying "some parts are under our control."
Fighting also continues in nearby Mariupol, where heavy shelling left dozens injured, its mayor said. Russian troops and Russian-backed separatist have surrounded the city on three sides. The Kremlin hopes to take Mariupol to complete a land corridor that would link the Crimea, which Russia illegally annexed Crimea in 2014 from Ukraine, with southern Russia.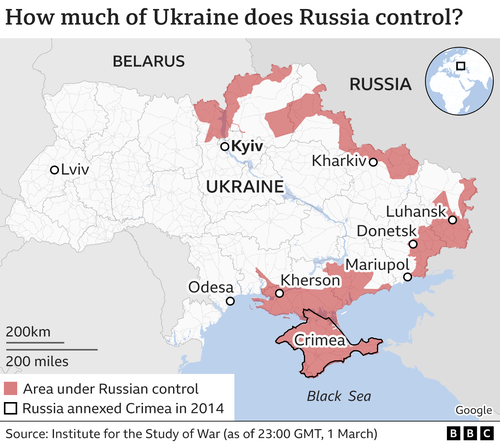 At the completion of one full week since the invasion kicked off, BBC summarizes the latest big ground-level developments as follows:
Russian paratroopers have landed in Kharkiv, Ukraine's second-largest city
Russia's defence ministry claims to have captured southern city Kherson
People in Kyiv told to leave by Russia before planned air strikes
Russia's 40-mile-long convoy remains just to the north of Kyiv
Addressing the crisis, President Biden devoted about the first 12 minutes of his State of the Union address Tuesday night to warning Russia and outlining what the US would and wouldn't do. Importantly, he emphasized that he would not send American troops to enter conflict with Russia, but is committed to defending current NATO territory and allies.
"Throughout our history we've learned this lesson — when dictators do not pay a price for their aggression, they cause more chaos," Biden said. "They keep moving. And the costs and threats to America and the world keep rising."
Russian forces said they had captured the Black Sea port of Kherson on Wednesday as Russian and Ukrainian troops battled for Kharkiv, the country's second-biggest city, and #Ukraine's president said Moscow wanted to "erase" his country – latest
▶️ https://t.co/n7RrPSlFaF pic.twitter.com/1obek7jKBV

— AFP News Agency (@AFP) March 2, 2022
"Let me be clear. Our forces are not engaged and will not engage in the conflict with Russian forces in Ukraine. Our forces are not going to Europe to fight Ukraine, but to defend our NATO allies in the event that Putin decides to keep moving west." He said this of additional thousands of troops recently deployed to Germany as well as NATO 'Eastern flank' countries.
WATCH: Newly-verified video shows devastating damage and partially collapsed apartment buildings northwest of Kyiv https://t.co/3yjasM4Ezf

— BNO News (@BNONews) March 2, 2022
Among the new US punitive measures unveiled in the speech included joining European countries in closing airspace to Russian flights. "Today I'm announcing that we are joining our allies and closing off the American airspace to all Russian flights," he said. The White House has also since said that targeting oil exports is "not off the table".
Also notable was this bizarre moment, when the president referred to Ukrainians as "Iranians"…
WATCH: Kamala corrects Biden under her breath when Biden refers to "Ukrainians" as "Iranians." pic.twitter.com/wkXcUpRu53

— Townhall.com (@townhallcom) March 2, 2022
Really a not so inconsequential gaffe considering the high stakes of the crisis in a time of war…
It's kind of important for an American president not get these things mixed up, especially when it involves those two countries. If it had been Trump, it would've been two weeks of nonstop whining about how such ignorance is a threat to national security. https://t.co/hn2Us3qtr3

— Hans Mahncke (@HansMahncke) March 2, 2022
At the same time the West has continued ratcheting the economic war to further isolate and punish Russia, with on Wednesday the EU disconnecting seven Russian banks from the SWIFT international payment settlement system.
While the country's largest bank, Sberbank, has been spared from this latest action, the following major lenders were given 10 days to halt all SWIFT operations: VTB, Rossiya, Otkritie, Novikombank, Promsvyazbank, Sovcombank, and VEB.RF – according to the list confirmed in Russian media. Notably VTB is Russia's second largest bank.
"All these banks that we have listed under SWIFT… are all [included] based on their connection to the state and the implicit connection to the war effort. We have not gone for a blanket ban across the whole banking system," a European Union official told Reuters.
This article (First Major Ukrainian City Falls To Russian Forces In South As Warships Eye Odessa) was originally published on Zero Hedge and is published under a Creative Commons license.