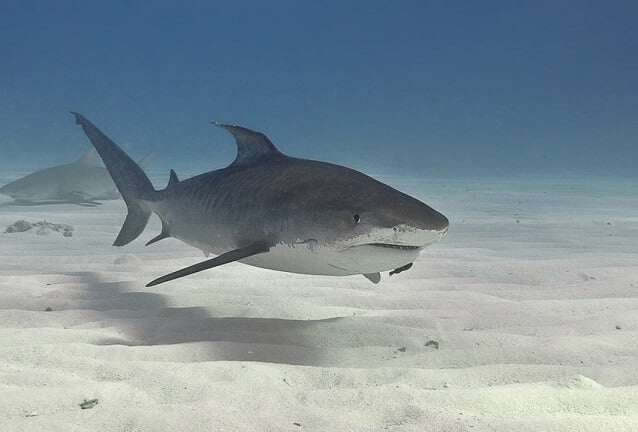 Fins From Up To 73 Million Sharks Are Used In Shark Fin Soup Every Year
The support for a shark fin soup ban has skyrocketed in China thanks to NBA Hall of Famer and GOAT of Chinese basketball, Yao Ming.
By Joe Martino | Collective Evolution
Back in 2011, Ming became the face of an awareness campaign on shark fin consumption that has been effective in raising awareness about an issue many thought was untouchable within Chinese tradition and cuisine. As a result of this campaign, most recent government surveys have shown that shark fin consumption in China has fallen by up to 80%!
Shark fin soup is considered a Chinese delicacy and has a deep history in traditional weddings, banquets and prestigious events. The soup, although considered a luxury item, has slight flavours and isn't all that unique. Given the amount of suffering and death that goes into creating the soup, you'd imagine there would be something more to it other than light flavours and texture. Then again, our treatment of animals on this planet for even the slightest human benefit has been shocking for decades.
As many as 73 million sharks end up in the global shark fin trade every year according to Oceana.org. In many cases, when sharks are caught, their fins are removed and then they're thrown back into the ocean to die as they're unable to swim.
In 2006, as many as 75% of Chinese citizens were unaware that shark fins were actually used in shark fin soup. After awareness increased due to campaigns like the one Yao Ming participated in, public education has shifted the perception on shark fin soup.
Shark fin consumption in China has fallen by up to 80% in the last 10 years. And it just so happens that Yao Ming's activism on the issue has been going for the exact same amount of time.
Ming Moved Onto China's Ivory Trade Next… And Won
With Ming being China's most powerful celebrity for 5 consecutive years between 2004 and 2009, you can imagine that, in a country of over a billion people, that truly says something in terms of public power. Ming was moved to take on China's ivory trade and once again used his image and platform to raise awareness about elephant poaching. He teamed up with WildAid to eventually find success in making it illegal to buy Ivory in China.
Chinese state media Xinhua described the run-up to the ban as "one of the largest ever public awareness campaigns" with support from other celebrities such as actress Li Bingbing.
"We all know that there is 'on paper,' and under the paper, there's still a long way to go to save the animals — and then save ourselves," Ming told CNBC.
Yes, there is more work to be done. The way we treat our environment and the animal kingdom on this planet truly needs to change, and that change will only come from awareness and connecting to self. Great genocide takes place on our planet every single year… and it is that of animals for needless human consumption.
The Takeaway
Even the largest of challenges we face can be changed with the efforts of people. Sure, in this case, it was a celebrity with great influence, but in many other cases, it is large groups of people coming together. The March Against Monsanto is a great example of that. I recall when that was first starting out and we were one of just a small handful of websites who actively raised awareness about Monsanto's actions – even when other partnering companies wouldn't work with us because of our efforts in that area of reporting.
Slowly but surely, our stories and articles became more and more viral over the years. The conversations eventually moved to the mainstream, and over time, it is now being turned into action across the planet against GMO foods and practices. Something that started out with just a few people has grown into a global movement thanks to their tireless efforts to do the right thing.
We have the power to do great things. Something that seems small can build to be impactful over time, but even if it doesn't, doing what inspires you is an incredible energy to add to collective consciousness and inspire others.
This article (Fins From Up To 73 Million Sharks Are Used In Shark Fin Soup Every Year) was originally published on Collective Evolution and is published under a Creative Commons license.