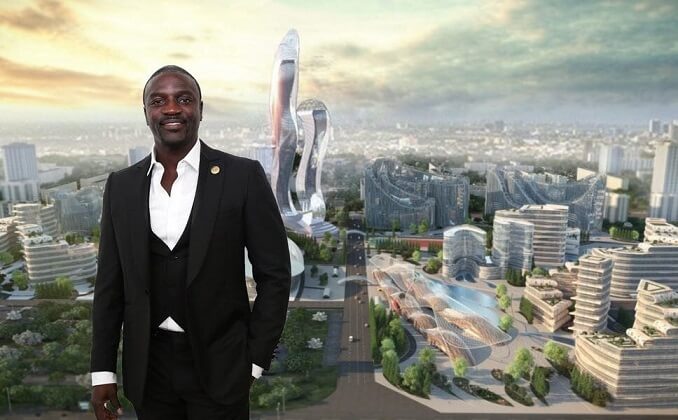 Futurology
Science & Technology
Akon Finally Breaks Ground On His Futuristic $10 Billion Solar Powered "Crypto City"
Akon has been making significant progress on his development plans in Africa.
By John Vibes | Guest Writer
The rapper, entrepreneur, and philanthropist Akon has been making significant progress on his development plans in Africa, which involve the creation of a futuristic city that runs on clean energy and crypto-currency.
In January of last year, Akon revealed that his agreements with Senegal President Macky Sall were going forward, and a few months later it was announced that the engineering and consulting firm KE International was awarded a $6 billion contract to build the city. The company previously said it had already received $4 billion from investors for the first two phases of Akon City's construction, giving the project a price tag of at least $10 billion.
Just finalized the agreement for AKON CITY in Senegal. Looking forward to hosting you there in the future pic.twitter.com/dsoYpmjnpf

— AKON (@Akon) January 13, 2020
The project goes much further than just this one city and it has already begun to make an impact across the continent. In the short time since the deal was finalized last year, a large number of solar street lights, and solar home lighting units, have been installed across 14 African countries, according to Akon Lighting Africa.
The effort was made possible by a private-public partnership model and a well-established network of partners including SOLEKTRA INT, SUMEC, and NARI.
A great watch for those that haven't seen it yet. @Akon outlines the steps that have gone into getting #AkonCity off the ground and into construction.$AKN will be the main currency of Akon City. https://t.co/5BNoiEBO3M

— Akoin.io (@AkoinOfficial) February 11, 2021
Phase 1 of construction on the city is expected to be completed in 2023, and will include roads, a hospital, residences, hotels, a police station, a waste facility, a school, and a solar power plant. The entire city is expected to be finished around 2029. The city's economy will be facilitated by Akon's crypto-currency "Akoin," which runs on the Stellar block-chain. Stellar is a crypto ecosystem that includes its own crypto-currency XLM, and also allows for the development of other projects, such as decentralized exchanges and additional currencies like Akoin. Banks around the world have also been considering using the Stellar block-chain for stable-coin deployment.
Akon believes that crypto-currency is the solution to the corruption problems that create widespread inequality in Africa because the block-chain provides a record that would make corruption extremely obvious if it were to take place. With an independent crypto-currency, governments are unable to print money and devalue the currency, and the control of the money is decentralized.
In an interview with TMZ last year, Akon compared the vision that he has for the city with the fictional "Wakanda" from the movie Black Panther.
"This movie literally made an idea of what Africa could really be. It's just ironic that I was already working on this before the movie came out, but it's something that helped me a lot when I was trying to explain to explain to people what I was trying to do," Akon said.
The city's crypto-economic system will also solve many problems specific to the developing world, like instantly calculating conversation rates for currencies, which is often an obstacle because there are so many different regional currencies and methods of trade. In some cases, people even use prepaid cell-phone minutes as a currency because it is easier to use and exchange than traditional currencies. Akon says that the Akoin wallet will allow users to trade between crypto-currencies, fiat currencies, and cell-phone minutes instantly without having to go through a major exchange using Atomic Swap technology. The app will also teach users to become more familiar with the technology in general.
About the Author
John Vibes is an author, researcher and investigative journalist who takes a special interest in the counter culture and the drug war.