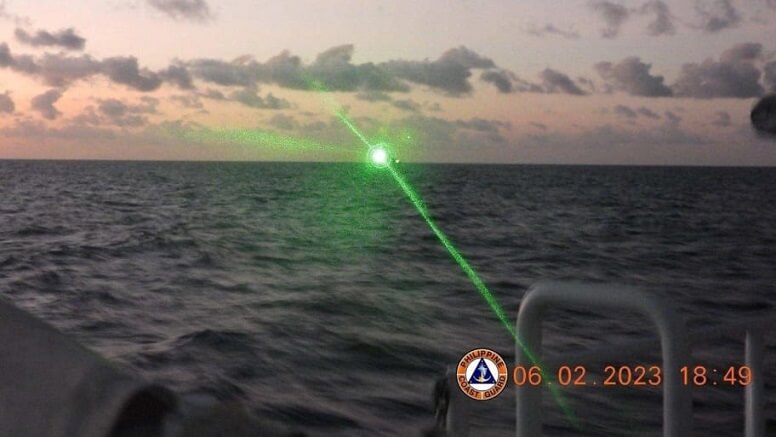 US Warns It Will Defend Philippines After China Deploys Laser At Sea
MANILA, PHILIPPINES - The United States renewed a warning that it would defend its treaty ally if Filipino forces come under attack in the disputed South China Sea, after a Chinese coast guard ship allegedly hit a Philippine patrol vessel with military-grade laser that briefly blinded some of its crew.
By Tyler Durden | Zero Hedge
The Biden administration has denounced the actions of China's military after a new significant incident involving the Philippine and Chinese Coast Guards. It happened on Feb.6, but has only this week been revealed.
State Department spokesman Ned Price in a Tuesday briefing blasted China's "provocative and unsafe" interference aimed at disrupting Philippine vessels' "lawful operations" in the South China Sea. "More broadly, the PRC's dangerous operational behaviour directly threatens regional peace and stability, infringes upon freedom of navigation in the South China Sea as guaranteed under international law, and undermines the rules-based international order," Price said.
Specifically, the allegation is that a Chinese Coast Guard ship used a laser device to "temporarily blind" the crew of the rival Philippine ship, according to the US, citing its Philippine ally.
The US said it happened in an area where Beijing has "no lawful maritime claims" as it occurred as the Philippine Coast Guard (PCG) sailed around Second Thomas Shoal.
That's when, according to an official PCG statement—
The Chinese ship illuminated the green laser light twice toward the BRP MALAPASCUA, causing temporary blindness to her crew at the bridge. The Chinese vessel also made dangerous manoeuvres by approaching about 150 yards from the vessel's starboard quarter.
The PCG further called it "a blatant disregard for, and a clear violation of, Philippine sovereign rights."
The State Dept.'s Price agreed, saying "The United States stands with our Philippine allies in upholding the rules-based international maritime order and reaffirms an armed attack on Philippine armed forces, public vessels, or aircraft, including those of the Coast Guard in the South China Sea, would invoke U.S. mutual defence commitments," while referencing a 1951 mutual defence treaty.
It's certainly not the first time the US made such a pledge; however, clearly Beijing is challenging the US stance with such brazen provocations in the South China Sea, especially when disputed territory is at play.
Beijing has acknowledged the incident, but blamed the Philippine Coast Guard for entering claimed Chinese waters…
Chinese MOFA on laser pointing incident:

The Ren'ai Reef is part of China's Nansha Islands. On February 6, a Philippine Coast Guard vessel intruded into the waters off the Ren'ai Reef without Chinese permission. https://t.co/wGAOrrNVeq

— Frances Mangosing 🇵🇭 (@FMangosingINQ) February 13, 2023
Last summer Secretary of State Antony Blinken pledged and spelled out: "We also reaffirm that an armed attack on Philippine armed forces, public vessels, or aircraft in the South China Sea would invoke US mutual defence commitments under Article IV of the 1951 US-Philippines Mutual Defence Treaty."
* * *
READ MORE: Nostradamus Predicts: What's In Store For 2023?
Read more on the Upcoming WW3: What Does Baba Vanga Predict For 2023? 
Liked it? Take a second to support Collective Spark.
We'd love to hear from you! If you have a comment about this article or if you have a tip for a future Collective Spark Story please let us know below in the comment section.