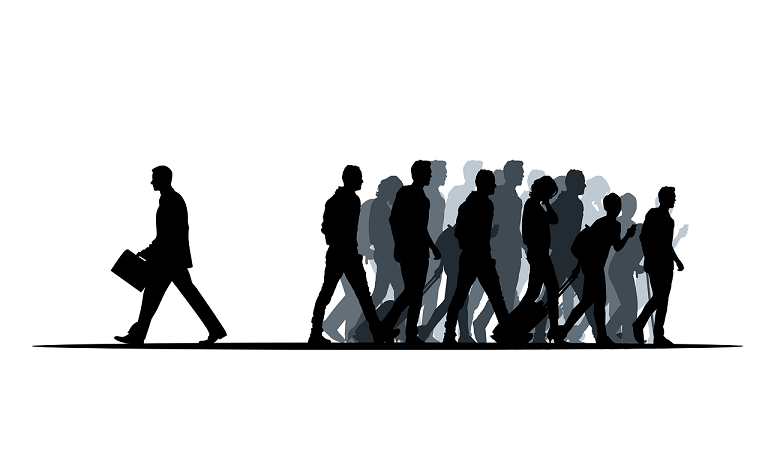 This Is What Happens When Millions of Workers Disappear From The System…
In 2022, I am sure that they will find even more ways to royally mess things up.
By Michael Snyder | Guest Writer
We were warned that this would happen. In 2021, millions of Americans either quit their jobs or were forced out of their positions because of various mandates that were implemented all over the country. And as I discussed earlier this week, countless other workers either died or became incapacitated last year. As a result, our society is descending into a state of utter chaos and basic services are breaking down all around us.
Let me give you a perfect illustration of what I am talking about. On Sunday, a man in St. Louis called 911 because his brother needed to go to the hospital, and it took 10 hours for the ambulance to get there…
A St. Louis man said it took 10 hours for an ambulance to arrive to help his brother who fell ill Sunday afternoon.
Jesse Shaw said his older brother, Wilbert, is now in the hospital fighting for his life. Shaw said his brother woke up in so much pain, he couldn't move.
If I called 911 and it took an ambulance 10 minutes to come, I would be greatly upset.
Can you imagine waiting for 10 hours?
That is crazy.
When Shaw asked about the delay, he was told that they simply didn't have any vehicles available…
Shaw said he rushed over to his brother's apartment and called 911 around 2:00 p.m. He was hoping to see an ambulance soon after that but ended up waiting for hours.
"An hour passed. Two hours passed. Three hours passed," Shaw said. "I called back just to make sure. Maybe they had the wrong address or something. They said they had the right address, but just didn't have any vehicles available at the moment."
I am sure that St. Louis had plenty of empty ambulances just sitting around doing nothing.
It is just that they didn't have enough workers to operate them.
Sadly, some people that actually get to the hospital on time end up dying in our emergency rooms. A few days ago, one of my readers emailed me about what is happening in her area, and she said that I could share this with all of you…
Hi Michael, I hope you are well.  Just wanted to share experience where I work. I have worked for the same doctor for over 30 years and I work next to Hospital. 2 people died in waiting room in past week of the ER!. The wait is 12 to 24 hours. My neighbour was stuck in ER for 3 days because of no beds.
A 12 hour wait in an emergency room is inexcusable.
But this is what happens when you force thousands upon thousands of hospital workers out of their jobs in the middle of a major national health crisis.
Of course every industry is being hit hard by the trends that we are witnessing, and it is getting worse with each passing month.
4.5 million more Americans quit their jobs in November, and Mike Rowe is warning that "every single American" will be affected as multitudes of highly qualified people leave their posts…
FOX Business personality and "How America Works" narrator Mike Rowe cautioned that "every single American" will feel the effects from the record number of U.S. workers quitting their jobs.
He is right.
When basic services break down, we all suffer.
According to Rowe, he has "never seen anything like this"…
"I've never seen anything like this," Rowe noted. "I've heard from the energy industry, the flooring industry… the restaurant industry, the cable and broadband industry, they are all struggling with the same basic problem."
I have never seen anything like this either.
But I specifically warned that this was coming.
I warned my readers repeatedly that all of these absurd mandates would cause widespread chaos, and that is exactly how it is playing out.
So what is the federal government going to do about this crisis?
Well, apparently yet another "stimulus package" is being prepared…
The Washington Post's Tony Romm first reported that lawmakers from both parties were in talks about potentially proposing to pump billions into businesses, including hard-hit ones like restaurants. The Post reported that Sens. Ben Cardin, a Democrat from Maryland, and Roger Wicker, a Mississippi Republican — who are reportedly leading the talks — had put together a $68 billion proposal in December.
"We started with restaurants but we're prepared to expand it if we can have the necessary support," Cardin told reporters on Wednesday. "There's other industries that have legitimate concerns."
Throwing more money at the problem won't bring back the workers that were sent packing because of the mandates.
And throwing more money at the problem certainly won't bring the workers that have died back from the dead.
But it will cause more inflation.
As I have detailed over and over again in recent months, the price of just about everything is shooting up dramatically.
Unfortunately, our big spending politicians just can't help themselves. Whenever they hear about a new problem, their solution is always to pile on more debt and more spending.
Some of the biggest companies in America have already announced huge price increases for 2022, and this is just the beginning.
So things are only going to get worse for the millions of U.S. families that are financially stressed because of rising inflation.
According to a study that was recently released, the average American now worries about their finances "six times a day"…
Budgets are tighter for millions of people with 2022 in full swing. Being money-conscious is nothing new for many of us, but new research shows the average American worries about their finances six times a day.
The poll of 2,000 adults to uncover how people feel about their finances also finds millennials are more focused on their finances than any other generation.
The level of worry is only going to increase as the cost of living continues to rise much faster than pay checks do.
And of course all of this is setting the stage for the sort of horrific inflationary meltdown that I have long warned about.
If you want to know who is responsible for this giant economic mess, it is our "leaders" in Washington.
Their policies created the worker shortage that we are now facing.
And their policies created the rampant inflation that we now see all around us.
In 2022, I am sure that they will find even more ways to royally mess things up.
We are starting to reap what we have sown, and it isn't going to get any easier from here.
About the Author
My name is Michael Snyder and my brand new book entitled 7 Year Apocalypse is now available on Amazon.com. In addition to my new book I have written five others that are available on Amazon.com Lost Prophecies Of The Future Of America, The Beginning Of The End, Get Prepared Now, and Living A Life That Really Matters. (#CommissionsEarned) By purchasing the books you help to support the work that my wife and I are doing, and by giving it to others you help to multiply the impact that we are having on people all over the globe. I have published thousands of articles on The Economic Collapse Blog, End Of The American Dream and The Most Important News, and the articles that I publish on those sites are republished on dozens of other prominent websites all over the globe. I always freely and happily allow others to republish my articles on their own websites, but I also ask that they include this "About the Author" section with each article. The material contained in this article is for general information purposes only, and readers should consult licensed professionals before making any legal, business, financial or health decisions.
I encourage you to follow me on social media on Facebook and Twitter, and any way that you can share these articles with others is a great help. During these very challenging times, people will need hope more than ever before, and it is our goal to share the gospel of Jesus Christ with as many people as we possibly can.