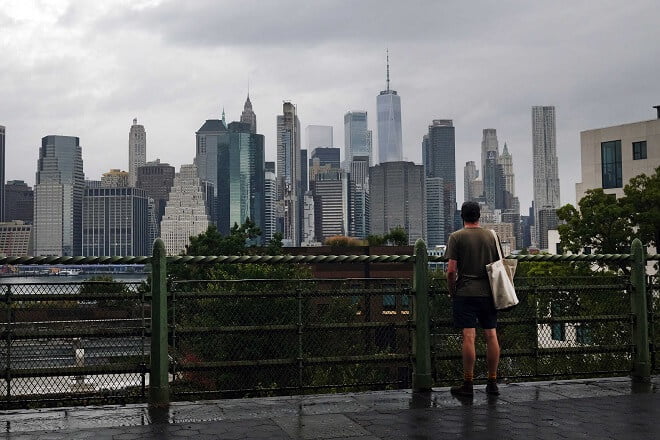 World
NY Business Owners Fight Back Against 'Unscientific And Arbitrary' Vaccine Mandate
The only way this nightmare ends is to have the courage to stand up and tell the State "No!" and stop complying. These groups are doing just that!
By Matt Agorist | The Free Thought Project
New York, NY – Earlier this month, many Americans were shocked as New York City became the first major city in the country to roll out the incredibly fascist vaccine passports for entry into indoor restaurants, bars and gyms. While many fearful Americans applauded the fact that government can take away your right to freely travel by forcing you to take a vaccine, others made sure to stand up against this massive power grab by the state.
Shortly after New York announced their tyrannical order, New Orleans and San Francisco followed suit. Luckily, however, there appears to be a growing resistance and New York is ground zero for it.
"We followed all rules with the masks and six-foot distancing, curfew, cleaning logs, temperature checks," Alison Marchese, co-owner of the Italian restaurant Max's Es-ca on Staten Island, told DailyMail.com. "Come on, it's enough is enough right now."
Marchese is part of a group of business owners who have gone on the offensive against the government's "arbitrary" and "unscientific" vaccine mandate. And unscientific is right as even the CDC has admitted that the vaccines do not prevent transmission or infection.
CDC director says vaccines can't prevent transmission anymore, so why would any government, organization, or company mandate them? https://t.co/vaYbKzzV9Z

— Thomas Massie (@RepThomasMassie) August 20, 2021
The mandates are also incredibly arbitrary as other businesses like grocery stores and hair salons are exempt. Apparently if you get your haircut without the vaccine, you are safe but in a restaurant, you are not safe – according to government.
If restaurants and other businesses fail to demand their customers show them their papers, they face thousands of dollars in fines. For a first offense, a business owner will be hit with a $1,000 fine. The fine doubles for a second offense and goes up to $5,000 for a third.
In the lawsuit, which is Independent Restaurant Owners et al v. Bill de Blasio, the plaintiffs claim that COVID restrictions have "severely and irreparably damaged" their businesses and others throughout the city, which have been "struggling to bounce back" since Governor Andrew Cuomo lifted all limits in mid-June.
The restaurants involved in the lawsuit include Deluca's Italian Restaurant and Max's Esca in Staten Island, and Pasticceria Rocco in Brooklyn. The Independent Restaurant Owners Association Rescue and two gyms, Evolve-33 and Staten Island Judo Jujitsu, are also plaintiffs in the complaint.
The lawsuit seeks a court order to block de Blasio's vaccine mandate, calling the requirement "irrational." Given the recent data to come out about vaccinated individuals both spreading and contracting COVID-19, the lawsuit called into question the efficacy of vaccines saying it is "an uncontested fact that unvaccinated and vaccinated individuals can both contract Covid-19 and the so-called 'Delta' variant, further illustrating the arbitrariness of this executive order."
New York City's mayor is remaining steadfast however, and believes that they will beat any lawsuits like this one.
"I've had the conversation with the Law Department – tremendous confidence that we're in a very strong legal position," de Blasio said to The NY Times. "We're in a global pandemic still. The decisions that have been taken have been taken with the leadership of our health officials who have been fighting this battle from the beginning."
While this group is suing the government, other facets of the resistance against the mandates are simply choosing to disobey. After all, most of the time positive change happens is when good people choose to break bad laws.
Pasticceria Rocco's owner, Mary Josephine Generoso – who is also part of the lawsuit – has been outspoken against the mandate and has even put a sign up in front of her business proudly proclaiming that they will not comply and will not discriminate against anyone, vaccinated or not.
According to reports on the ground, many businesses have already decided that they will not comply with the mandate and movie theatres, restaurants and other venues have refused to check their customers' vaccination status before allowing them to enter. There has been no news yet of these businesses refusing to be fined.
Today's experience with NYC's vaccine verification mandate:

I went to dinner at a nice restaurant on Hudson Street in Manhattan's West Village. They wouldn't seat me without seeing my vaccine credentials, so I went to dinner at another nice restaurant on Hudson Street instead.

— Eli Klein (@TheEliKlein) August 19, 2021
About the Author
Matt Agorist is an honourably discharged veteran of the USMC and former intelligence operator directly tasked by the NSA. This prior experience gives him unique insight into the world of government corruption and the American police state. Agorist has been an independent journalist for over a decade and has been featured on mainstream networks around the world. Agorist is also the Editor at Large at the Free Thought Project.
Follow @MattAgorist on: Twitter, Steemit, and now on Minds.