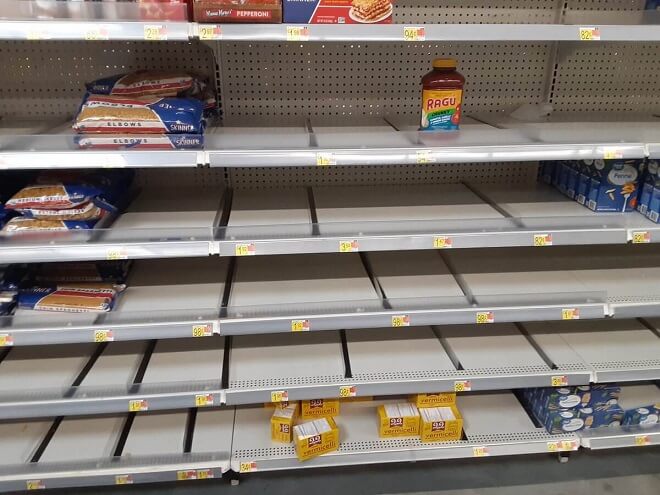 As Store Shelves Get Barer, Food Industry Insiders Are Warning That Supplies Will Get Even Tighter In The Weeks Ahead
If you are waiting for the government to pull us out of this mess, you are going to be waiting an awfully long time.
By Michael Snyder | Guest Writer
It is happening again. In December, Joe Biden stood in front of the American people and boldly declared that he had defeated the supply chain crisis, but of course that wasn't true. There have been persistent shortages for months on end, and now fear of Omicron is taking things to an entirely new level once again. On Monday, the hashtag #BareShelvesBiden was trending on Twitter, and that is because shelves are alarmingly bare in supermarkets from coast to coast. We are being told that these shortages are only "temporary", but of course that was what we were told when nationwide shortages first began to pop up all the way back in early 2020.
Unfortunately, food industry experts are warning us that supplies are going to get even tighter in the weeks to come. For example, the following is what billionaire John Catsimatidis just told Fox News…
"Omicron is taking its toll at different levels of the supply chain, whether it's the warehouses, whether it's the selectors, the drivers the loaders – and as they call in sick there are interruptions in the system," Catsimatidis told Todd Piro during an appearance on "Fox & Friends First."
Catsimatidis went on to say that many of these interruptions will continue over the next 6 weeks as the COVID-19 variant impacts the labour market. The United Refining Company owner added that the Northeast in particular is seeing the price of various products, including eggs, poultry, and beef, go up because of low supply and high demand.
That sounds rather ominous.
Of course he is not alone. Egg Innovations CEO John Bruunquell is specifically warning that current conditions are likely to prevent his industry from supplying enough eggs to the general population…
Meanwhile, Egg Innovations CEO John Bruunquell, who acquired the first U.S. patent for reduced fat and cholesterol eggs, echoed Catsimatidis' sentiment on "Fox & Friends" with co-host Ainsley Earhardt, warning that an uptick in demand coinciding with labour, freight and vendor issues may soon hamper egg supply.
So if shelves that normally hold meat and eggs are already bare in your area, they may be staying that way for a while.
And if the shelves that normally hold meat and eggs are not bare in your area, you may want to grab what you can while you still have the opportunity to do so. The shortages are escalating, and shelves appear to be getting emptier with each passing hour. According to Zero Hedge, Americans from coast to coast have been posting photographs of bare shelves on social media…
Before Christmas eve, President Biden declared his administration's efforts to eliminate supply-chain bottlenecks ahead of the holiday season had succeeded. Ten days into the new year, we can firmly say that is not the case.
The hashtag "BareShelvesBiden" has been trending on Twitter for the last 24 hours. The hashtag ranked on Twitter's most trending list as of late Sunday evening.
People from around the country tweeted pictures and videos of bare supermarket shelves as Biden's Supply Chain Disruptions Task Force fails to address pandemic-induced disruptions.
In recent months I have been writing a lot of articles about this supply chain crisis, but even I didn't anticipate that things would be this bad in early 2022.
Grocery store in Falls Church, VA #BareShelvesBiden pic.twitter.com/MLU5gP1mlz

— Corvette SCIF Poso 🇺🇸 (@JackPosobiec) January 9, 2022
Apocalypse now pic.twitter.com/j48ALuYtoQ

— Kayla Tausche (@kaylatausche) January 9, 2022
If we simply had enough workers to do all of the jobs that needed to be done, that would go a long way toward resolving this crisis.
In industry after industry, vast numbers of workers seem to have "disappeared" from the system, and this is causing a whole host of problems. For instance, FedEx is warning that a lack of staff will result in significant delays…
FedEx Corp warned on Friday that rising cases of Omicron variant has caused staff shortage and delay in shipments transported on aircraft.
"The explosive surge of the COVID-19 Omicron variant has caused a temporary shortage of available crew members and operational staff," the company said.
I don't know why FedEx is using the word "temporary", because they have been operating without enough people for many months.
Of course it is just human nature to want to put a positive spin on things. So many people out there want to believe that the future is going to be brighter, because the last couple of years have really stunk.
In fact, just check out the words that Americans used when one recent survey asked them to describe 2021…
Among the words volunteered in response to the open-ended question to describe 2021 in a single word:
Awful/terrible/bad/sucked – 23%
Chaos/confusing/turmoil – 12%
Challenging/hard/rough – 11%
Disaster/train wreck/catastrophe – 6%
(Tied) Okay/good – 6%
Looking ahead, our economy is now the number one thing that Americans are concerned about…
The U.S. economy is the top priority for Americans, with inflation worries rising and pandemic-related fears waning, a poll released Monday showed.
Sixty-eight percent of Americans mention the economy in some way when asked an open-ended question about the top five priorities for the government to work on in 2022, according to a year-end poll taken by the Associated Press. Just 37 percent cited the virus, down from 53 percent a year earlier.
The American people want the supply chain crisis to be resolved, they want inflation to go back down, and they want life to return to the way that it used to be.
Unfortunately, none of those things are going to happen.
It has become exceedingly clear that our health authorities are completely incapable of defeating the pandemic, and it has also become exceedingly clear that our leaders in Washington are completely incapable of fixing the economy.
And if you think that things are bad now, just wait until we get a few more years down the road. Virtually everything that Joe Biden and his minions do makes things even worse, and we still have at least three more years of either him or Kamala Harris in the White House.
If you are waiting for the government to pull us out of this mess, you are going to be waiting an awfully long time.
Decades of very foolish decisions have brought us to this point, and it would take a miracle of epic proportions to turn things around now.
About the Author
My name is Michael Snyder and my brand new book entitled 7 Year Apocalypse is now available on Amazon.com. In addition to my new book I have written five others that are available on Amazon.com Lost Prophecies Of The Future Of America, The Beginning Of The End, Get Prepared Now, and Living A Life That Really Matters. (#CommissionsEarned) By purchasing the books you help to support the work that my wife and I are doing, and by giving it to others you help to multiply the impact that we are having on people all over the globe. I have published thousands of articles on The Economic Collapse Blog, End Of The American Dream and The Most Important News, and the articles that I publish on those sites are republished on dozens of other prominent websites all over the globe. I always freely and happily allow others to republish my articles on their own websites, but I also ask that they include this "About the Author" section with each article. The material contained in this article is for general information purposes only, and readers should consult licensed professionals before making any legal, business, financial or health decisions.
I encourage you to follow me on social media on Facebook and Twitter, and any way that you can share these articles with others is a great help. During these very challenging times, people will need hope more than ever before, and it is our goal to share the gospel of Jesus Christ with as many people as we possibly can.